FOR IMMEDIATE RELEASE
Saturday, March 20, 2021
Contact: Brian Liskai
By Brian Liskai
ATTICA, Ohio – In a caution-filled opening night 410 sprint feature which saw two early leaders spin, Sikeston, Missouri's Hunter Schuerenberg was able to navigate through traffic and hold off a late race charge to score his first ever Attica Raceway Park victory on Construction Equipment and Supply Night.
Schuerenberg inherited the lead of the Callie's Performance Products 410 Sprint feature on lap 15 when leader Trey Jacobs spun and held off a late race charge by his friend Zach Hampton for the 30-lap win aboard the VerMeer Motorsports/TK Concrete/ Maxim Trucking/ Roof Bolt Transport, Eddie Gilstrap Motors/Logan Contracting/ Titan Machinery backed #55.
"It was just of those kinds of race tracks if your leading you can't afford to make a mistake. As wide as the place was I knew someone in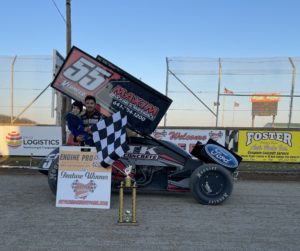 second was probably pressuring the hell out of me. If you caught lapped traffic then you were forced to try and slide across that race track and give the guy behind you some room. I knew he was back there…I was just trying to slow the pace down enough so we didn't have to get into lapped traffic real hard. I probably could have run the car a little bit harder but when three guys ahead of you make a mistake…I wasn't going to give the race way," Schuerenberg said.
"I think that was Zach (Hampton) that ran second and that's pretty cool. He and I are buddies. That kid is the hardest working dude in sprint car racing right now. He's coming along quite well and to know he ran second is pretty cool. Happy to get win number one for VerMeer Motorsports," he added.
While the stats will show Ashland, Ohio's Ryan Markham led all 25 laps of the Propane.com/Dirt Nerds Podcast UMP Late Model A-main, it wasn't easy for the former Attica track champion to claim his 17th career win at "Ohio's Finest Racing" speedplant. Markham made wholesale changes to his car between the heat and feature and it paid off as he held off Rusty Schlenk for the victory aboard his B&B Drain Service, Beer Barrel Drive Thru, Clear Detail, Accu Force, Matco Tools by Jimmy, Innovative Graphics backed #5M.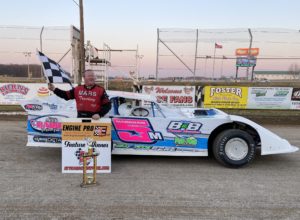 "All winter my notebook was lying on a shelf in the garage. I'm grooving tires today and reminded myself to take it with me. Well low and behold we left the notebook at home. But that's not why we ran badly in the heat race. The track generally here is more bitey and we saw we needed to make some changes and we made some wholesale changes and even without the notebook we got it done. I have a pretty good habit of winning on opening night," said Markham.
In arguably the best feature of the night, five time and defending Fremont Fence 305 Sprints track champion Paul Weaver, of Fremont, used lapped traffic to take the lead at the white flag and held off a last ditch challenge from Steve Rando to earn his 57th career victory in the division. It was Weaver's 60th total win (3 in the 410s also) at the track, making him the all-time career winner at Attica.
"I caught him (Rando), he pulled away, I caught him, he pulled away and it just played out on the last lap or he probably would have got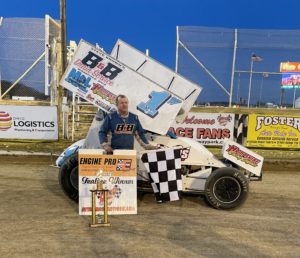 me back. I might have passed Mark Keegan (for all time wins) but Mark Keegan is the best. When he walks in the pits everyone knows that. It's a shame I didn't have a lot of opportunities to run 410s. I'm just trying to keep the fun in racing," said Weaver of his B&B Drain Services, Hampshire Racing Engines, M&L Excavating, Adkins Motorsports, Weaver Performance backed #1W.
Chad Wilson and Cole Macedo brought the field to green for the 30-lap 410 sprint feature but a three car tangle necessitated another start which saw another spin followed by a green and another caution. When the race finally started Macedo jumped into the lead over Trey Jacobs, Schuerenberg, Wilson, Ricky Peterson, Hampton and Chris Andrews.
Macedo spun on lap two handing the lead to Jacobs. Jacobs set a blistering pace, racing into lapped traffic by the sixth circuit with Schuerenberg, Peterson, Hampton and Andrews in pursuit. A spin on lap seven gave Jacobs a clear track and he pulled away. Jacobs once again found heavy lapped traffic by the 12th circuit but another caution gave him a clear track.
By the half-way point Jacobs had built a nice lead over Schuerenberg, Peterson, Hampton, Andrews, Cole Duncan, Nate Dussel and John Ivy. But disaster truck for Jacobs as he jumped the cushion in turns three and four to bring out the caution and handing the lead to Schuerenberg. On the restart another caution flew which brought about a fuel stoppage. The race would go caution free the final half.
When the green came back out Schuerenberg could not shake Hampton who had grabbed second from Peterson. Meanwhile a tremendous battle shaped up for fourth with Dussel, Andrews and Duncan. With five laps to go Schuerenberg was struggling behind a lapped car but was content not to push the issue as Hampton never showed him his nose.
Schuerenberg was finally able to dispose of the lapper and drove to the win over Hampton, Peterson, Andrews and Dussel.
Defending track champion Devin Shiels and Markham brought the field to green for the 25 lap late model feature with Markham edging ahead of Shiels with Rusty Schlenk and Collin Shipley battling for third. Markham maintained the lead while Shipley got around Shiels for the runner-up spot on lap three with Schlenk taking third the following circuit.
Markham was preparing the lap a car on the seventh circuit when that car spun right in front of him. Markham avoided the near disaster and maintained the lead while Shipley and Schlenk ran side by side lap after lap for second. The top three rain nose to tail through lap 17 when the caution flew.
Markham ran the cushion to perfection and maintained the lead when the green flew while Shipley and Schlenk continued their torrid battle with Schlenk taking second on lap 21.
Schlenk ran to Markham's inside several times but could not complete the pass as Markham drove to the win over Schlenk, Shipley a charging Casey Noonan and Shiels.
In the 25 lap 305 A-main – which after a caution on the opening lap and another on lap three went the distance under green – Kyle Peters and Rando brought the field to green with Rando blasting the high side to the lead over Peters, Weaver and Shawn Valenti.
Rando drove the cushion to a nice lead with Weaver taking second on lap three just as the final caution came out. On the restart Weaver dove to Rando's inside but the leader kept his momentum to maintain the lead.
Lapped traffic came into play by the 11th circuit allowing Weaver to remain within striking distance of Rando with Peters, Jamie Miller, Brandon Moore, Valenti, Kody Brewer, Jimmy McGrath Jr. and Zeth Sabo in pursuit. Peters did a 360 and surrendered third to Miller on lap 22 as Weaver had drove right to the rear bumper of Rando.
As the lead duo raced through traffic coming to the white flag, Weaver used one of the back markers as a pick to drive into the lead. Rando tried a last corner dive but Weaver held his line and drove to the win. Rando, Miller, Sabo and Moore rounded out the top five.
Attica Raceway Park will be back in action Friday, March 26 (Saturday, March 27 rain date) on Venture Visionary Partners Night with the 410 and 305 sprints and late models.
Fans and race teams should visit www.atticaracewaypark.com or follow the track on Twitter @atticaracewyprk or on Facebook at www.facebook.com/atticaracewaypark and Instagram at attica_raceway_park.
Attica Raceway Park
Saturday, March 20, 2021
Construction Equipment and Supply Night
Callie's Performance Products 410 Sprints –
Qualifying
1.23-Chris Andrews, 13.333; 2.20B-Cody Bova, 13.394; 3.3C-Cale Conley, 13.419; 4.55-Hunter Schuerenberg, 13.426; 5.97-Gary Taylor, 13.501; 6.18-Cole Macedo, 13.503; 7.3J-Trey Jacobs, 13.556; 8.35H-Zach Hampton, 13.572; 9.71H-Ryan Ruhl, 13.598; 10.22-Cole Duncan, 13.614; 11.14-Chad Wilson, 13.621; 12.35-Stuart Brubaker, 13.637; 13.1-Nate Dussel, 13.647; 14.98-Clinton Boyles, 13.711; 15.2-Ricky Peterson, 13.728; 16.7-Dylan Kingan, 13.732; 17.16-DJ Foos, 13.768; 18.18J-RJ Jacobs, 13.878; 19.33W-Caleb Griffith, 13.974; 20.27S-John Ivy, 14.012; 21.12-Kyle Capodice, 14.316; 22.40I-Mark Imler, 14.319; 23.4T-Josh Turner, 14.329; 24.16B-Zane DeVault, 14.361;
Heat 1, Group A – (8 Laps)
71H-Ryan Ruhl[2] ; 2. 14-Chad Wilson[1] ; 3. 20B-Cody Bova[4] ; 4. 3J-Trey Jacobs[3] ; 5. 16B-Zane DeVault[8] ; 6. 98-Clinton Boyles[5] ; 7. 16-DJ Foos[7] ; 8. 7-Dylan Kingan[6]
Heat 2, Group B – (8 Laps)
97-Gary Taylor[3] ; 2. 23-Chris Andrews[4] ; 3. 2-Ricky Peterson[1] ; 4. 27S-John Ivy[7] ; 5. 33W-Caleb Griffith[6] ; 6. 18J-RJ Jacobs[5] ; 7. 4T-Josh Turner[8] ; 8. 35-Stuart Brubaker[2]
Heat 3, Group C – (8 Laps)
55-Hunter Schuerenberg[3] ; 2. 18-Cole Macedo[2] ; 3. 35H-Zach Hampton[1] ; 4. 1-Nate Dussel[6] ; 5. 22-Cole Duncan[5] ; 6. 40I-Mark Imler[8] ; 7. 12-Kyle Capodice[7] ; 8. 3C-Cale Conley[4]
A-Main 1 – (30 Laps)
55-Hunter Schuerenberg[8] ; 2. 35H-Zach Hampton[5] ; 3. 2-Ricky Peterson[3] ; 4. 23-Chris Andrews[10] ; 5. 1-Nate Dussel[13] ; 6. 22-Cole Duncan[9] ; 7. 16-DJ Foos[19] ; 8. 27S-John Ivy[12] ; 9. 18-Cole Macedo[2] ; 10. 97-Gary Taylor[6] ; 11. 35-Stuart Brubaker[23] ; 12. 3C-Cale Conley[24] ; 13. 4T-Josh Turner[20] ; 14. 3J-Trey Jacobs[4] ; 15. 98-Clinton Boyles[16] ; 16. 14-Chad Wilson[1] ; 17. 20B-Cody Bova[7] ; 18. 18J-RJ Jacobs[17] ; 19. 40I-Mark Imler[18] ; 20. 12-Kyle Capodice[21] ; 21. 33W-Caleb Griffith[15] ; 22. 71H-Ryan Ruhl[11] ; 23. 16B-Zane DeVault[14] ; 24. 7-Dylan Kingan[22]
Hard Charger: 16-DJ Foos, +12
Fremont Fence 305 Sprints –
Heat 1 – (8 Laps)
97-Kyle Peters[1] ; 2. 11G-Luke Griffith[8] ; 3. 5-Kody Brewer[5] ; 4. 75-Jerry Dahms[2] ; 5. 1H-Zeth Sabo[6] ; 6. 5M-Mike Moore[4] ; 7. 32-Bryce Lucius[7] ; 8. 98-Robert Robenalt[3]
Heat 2 – (8 Laps)
5JR-Jim McGrath Jr.[2] ; 2. 12F-Matt Foos[3] ; 3. 26-Jamie Miller[6] ; 4. 21-Larry Kingseed Jr[1] ; 5. 36-Seth Schneider[7] ; 6. 9-Logan Riehl[8] ; 7. 28P-Tad Peck[5] ; 8. 15B-Brad Reber[4]
Heat 3 – (8 Laps)
19R-Steve Rando[1] ; 2. 22-Justin Lusk[2] ; 3. 28-Shawn Valenti[4] ; 4. 5K-Kasey Jedrzejek[7] ; 5. X-Mike Keegan[6] ; 6. 13-Jeremy Duposki[5] ; 7. X15-Kasey Ziebold[8] ; 8. 6-Jimmie Ward Jr[3]
Heat 4 – (8 Laps)
1W-Paul Weaver[5] ; 2. Z10-Brandon Moore[3] ; 3. 3V-Chris Verda[4] ; 4. 29-Rich Farmer[6] ; 5. 3X-Brandon Riehl[7] ; 6. 4T-Dylan James[2] ; 7. 63-Randy Ruble[8] ; 8. 34-Judson Dickerson[1]
B-Main 1 – (8 Laps)
1H-Zeth Sabo[1] ; 2. X15-Kasey Ziebold[6] ; 3. X-Mike Keegan[2] ; 4. 13-Jeremy Duposki[4] ; 5. 5M-Mike Moore[3] ; 6. 32-Bryce Lucius[5] ; 7. 6-Jimmie Ward Jr[8] ; 8. 98-Robert Robenalt[7]
B-Main 2 – (8 Laps)
36-Seth Schneider[1] ; 2. 9-Logan Riehl[3] ; 3. 3X-Brandon Riehl[2] ; 4. 4T-Dylan James[4] ; 5. 28P-Tad Peck[5] ; 6. 15B-Brad Reber[7] ; 7. 34-Judson Dickerson[8] ; 8. 63-Randy Ruble[6]
A-Main 1 – (25 Laps)
1W-Paul Weaver[6] ; 2. 19R-Steve Rando[2] ; 3. 26-Jamie Miller[7] ; 4. 1H-Zeth Sabo[17] ; 5. Z10-Brandon Moore[8] ; 6. 28-Shawn Valenti[4] ; 7. 5-Kody Brewer[9] ; 8. 5JR-Jim McGrath Jr.[11] ; 9. 9-Logan Riehl[20] ; 10. 97-Kyle Peters[1] ; 11. 3V-Chris Verda[3] ; 12. 11G-Luke Griffith[12] ; 13. 21-Larry Kingseed Jr[14] ; 14. 36-Seth Schneider[18] ; 15. 29-Rich Farmer[16] ; 16. X15-Kasey Ziebold[19] ; 17. 22-Justin Lusk[5] ; 18. 75-Jerry Dahms[13] ; 19. 5K-Kasey Jedrzejek[15] ;
Hard Charger: 1H-Zeth Sabo +13
Propane.com/Dirt Nerds Podcast Late Models –
Heat 1 – (8 Laps)
91-Rusty Schlenk[1] ; 2. 59-Larry Bellman[2] ; 3. 44-Collin Shipley[4] ; 4. 29-Nate Potts[3] ; 5. 12-Bobby Michaels[5] ; 6. 101-Chester Fitch[7] ; 7. 77-Steven Pocock[6]
Heat 2 – (8 Laps)
94-Mike Bores[1] ; 2. 16-Steve Sabo[3] ; 3. 41-Mike VanDermark[7] ; 4. 36-Matt Irey[5] ; 5. X3-Dan Wallace[4] ; 6. B4-Rich Ruff[6] ; 7. 69R-Doug Baird[2]
Heat 3 – (8 Laps)
1N-Casey Noonan[2] ; 2. 51-Devin Shiels[3] ; 3. 27S-Eric Spangler[4] ; 4. 5M-Ryan Markham[1] ; 5. 50-Greg Gokey[5] ; 6. 27W-Eric Wilson[6]
A-Main 1 – (25 Laps)
5M-Ryan Markham[2] ; 2. 91-Rusty Schlenk[3] ; 3. 44-Collin Shipley[4] ; 4. 1N-Casey Noonan[8] ; 5. 51-Devin Shiels[1] ; 6. 41-Mike VanDermark[9] ; 7. 27S-Eric Spangler[11] ; 8. 36-Matt Irey[10] ; 9. 29-Nate Potts[5] ; 10. X3-Dan Wallace[14] ; 11. 27W-Eric Wilson[18] ; 12. 94-Mike Bores[12] ; 13. 59-Larry Bellman[6] ; 14. 50-Greg Gokey[15] ; 15. B4-Rich Ruff[17] ; 16. 12-Bobby Michaels[13] ; 17. 101-Chester Fitch[16] ; 18. 77-Steven Pocock[20] ; 19. 16-Steve Sabo[7] ; 20. 69R-Doug Baird[19]
Hard Charger: 27W-Eric Wilson +7