FOR IMMEDIATE RELEASE
Friday, April 29, 2022
By Brian Liskai
ATTICA, Ohio – Defending Attica Raceway Park 410 track champion Trey Jacobs has lamented the struggles his team has had late in the races during the first part of the year. The team proved they can adjust and the Shreve, Ohio driver got by teenager Ryan Timms coming to the white flag to earn his third career win at "Ohio's Finest Racing" speed plant Friday, April 29 on Smith Paving Night.
The win – worth $4,000 thanks to Big D's Pizza of Clyde – will help Jacobs edge closer to Cole Macedo (who finished third Friday) in the All Pro Aluminum Cylinder Heads/Kistler Racing Products Attica Fremont Championship Series Presented by the Baumann Auto Group standings.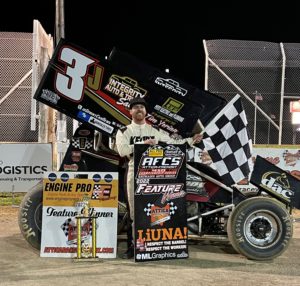 "It got a little hairy there in lapped traffic. I was really good on the bottom and I felt like I could just kind of maintain on the top. Lapped cars were holding their line but they were running the bottom in my line so I tried to move around at the wrong time and got dicing it up there with the 18 car (Macedo and Tyler Gunn). Luckily it seemed like lapped car moved out of the way and I was able to track down…that young Timms kid is one hell of a race car driver. I'm telling you what, 15 years old to come here first time ever and do that is pretty damn impressive," said Jacobs beside his Integrity Truck and Auto Sales of Bucyrus, Performance Foot and Ankle, VIB-ISO, Dac Vitamins & Minerals, Tim Yerian backed #3J.
"We've been really good unloading out of the box we just seem to not making the right adjustments by A-main time. Part of it is I gained a little bit of wait on my left hand ring figure during the off –season so I think I'm turning the wheel a little too much…I'm left hand down on the wheel so we just had to compensate for that. Once we got that dialed in we're good to go know," joked Jacobs of his recent marriage.
Three time and defending UMP Late Model track champion Devin Shiels held off challenges from JR Gentry to score his second straight win in the Dirt Nerds Podcast/Propane.com Late Models. It's the 12th career win for Shiels at Attica, moving him to sixth on the all-time division win list.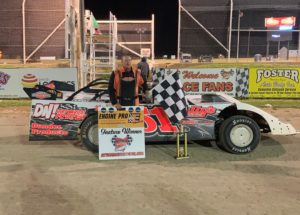 "I knew Gentry and Markham (Ryan) were going to be fast on the top so I moved around a lot to see which was better…I couldn't make up my mind. This car really likes the slick and the dirt has grip when you get here and then slicks off when the sprints run 30 laps. This car just comes alive. It was a total team effort. Jason pretty much changed the whole car after the heat race and went back to what we had last week and improved on it," said Shiels beside his Magic Fountain Auto Wash, Rally's Hamburgers, Dundee Products, Banshee Graphics, Salenbein Trucking & Excavating; Banshee Graphics backed #51.
Logan Riehl and Larry Kingseed Jr. literally ran side by side, nose to tail the entire 25 laps of the Fremont Fence 305 Sprints A-main. When the checkers flew Riehl, in only his third year of sprint car racing, won his very first sprint car feature by .207 seconds over Kingseed. In fact, the barn-burner feature saw only .63 seconds separate the top four – Riehl, Kingseed, Paul Weaver and Jamie Miller – at the checkers.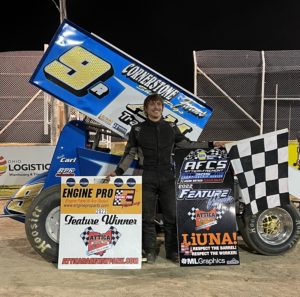 "I don't really know what to say….this is incredible. I seen Larry right there and he was with me the entire time. I just try to make the best 25 laps I can and see where we stand at the end of it. It feels pretty good to be in this division. There's a lot of competition and about 10 to 15 cars can win every night. I have to thank my mom and dad, my brothers, my girlfriend, Riehl Custom Fab and Chassis Repair, A & M Transport, Cornerstone Farms, Bascom Diesel Supply, Ely Clouse Machining, Milligan's Irish Pub and RPK Enterprises," said Riehl.
Riehl's win should move him from fifth to the top three in the NAPA Auto Parts of Bryan AFCS Presented by Jason Dietsch Trailer Sales points.
Ryan Timms jumped into the early lead of the 30-lap Callie's Performance Products 410 Sprint A-main with Kyle Capodice and Tyler Gunn battling for second with Jacobs and Stuart Brubaker locked into a battled for fourth. Following a lap three caution, Timms pulled away while the battle for second between Capodice and Gunn heated up.
Timms raced into lapped traffic by the seventh circuit with Gunn taking second and a lap later Jacobs grabbing third. Heavy lapped traffic came into play by the 10th circuit and Gunn and Jacobs battled hard for second. Jacobs finally took the spot on lap 16 as the leaders were again mired in traffic. Gunn retook the runner-up spot on lap 21 only to see Jacobs regain the position a lap later.
Meanwhile Jacobs, Gunn and Cole Macedo closed on Timms. With five laps to go Jacobs was right on the rear bumper of Timms. Coming to the white flag Jacobs rocked off the bottom to grab the lead and drove to the win over Timms, Macedo, DJ Foos and Gunn.
Justin Chance jumped into the lead of the 25-lap UMP Late Model A-main but a hand full of cautions early on kept the field close. On a lap two restart Shiels drove around Chance to take the lead and a lap later JR Gentry took second while Chance was left to deal with a challenge from Ryan Markham.
Shiels and Gentry ran nose to tail until a caution with seven laps to go. On the restart Gentry tried to drive around Shiels but couldn't make the pass. Shiels drove to the win over Gentry, Markham, Chance and Larry Bellman.
While Riehl took the lead in the 25-lap Fremont Fence 305 A-main, Larry Kingseed didn't let him get away. A couple of cautions in the first 10 laps kept the field close. Riehl and Kingseed ran side-by-side lap after lap with Paul Weaver and Jamie Miller staying close. Coming to the checkers several lapped cars were right in front of the top four. Riehl was able to pick his spot and drove to the narrow win over Kingseed, Weaver, Miller and Matt Foos.
Attica Raceway Park will be back in action Friday, May 6 for Stillwater Metal/Bazell Race Fuels Night with the UMP late models battling for $3,000 to win. The 305 sprints and dirt trucks will join in the action.
For more information go to www.atticaracewaypark.comor follow the track on Twitter @atticaracewyprk or on Facebook at www.facebook.com/atticaracewaypark and Instagram at attica_raceway_park.
FOR IMMEDIATE RELEASE
Wednesday, April 27, 2022
ATTICA, Ohio – When the World of Outlaws NOS Energy Drink Sprint Car Series invades a track that hosts weekly 410 racing like Attica Raceway Park, one of the most exciting things for the fans is cheering on their "regular" racers to beat the Outlaws! When the World of Outlaws come to Attica Raceway Park on Friday, May 20 for the Kistler Engines Classic, the "regular" racers can make a lot of extra money.
Besides the $10,00 to win feature, Attica Promoter John Bores will once again show his appreciation for the great racing the Callie's Performance Products 410 Sprints have put on so far this season. Attica will cover the World of Outlaws membership fee for the top 15 in weekly points after the track's May 13 event.
Attica Raceway Park will also offer up some bonus money. Any driver in the top 15 in track points who can take down the World Of Outlaws and win the A-main will earn an additional $2,000. The highest finisher in the A-main who is in Attica's top 15 in points will receive a $1,000 bonus. Should the driver in the top 15 in points win the A-main then the next highest finisher in the track's top 15 in points gets the $1,000 bonus.
"We are blessed with a great field of weekly 410 sprint car teams and we know they will be ready when the World of Outlaws come to Attica. It will be an entertaining night for sure," said Rex LeJeune, Director of Operations at Attica.
"John Bores knows the work and costs the local teams have in preparing for these big events and wants to reward them for their dedication not only to the track but to 410 sprint racing," added LeJeune.
The Fremont Fence 305 Sprints will also be in competition on May 20, battling for $1,000 to win.
Gates will open at 3 p.m. on May 20 with racing underway at 7:45 p.m. Reserved seats for the Kistler Engines Classic are available at www.atticaracewaypark.com (click on the Kistler Engines Classic banner at the top of the page).
For more information go to www.atticaracewaypark.comor follow the track on Twitter @atticaracewyprk or on Facebook at www.facebook.com/atticaracewaypark and Instagram at attica_raceway_park.