Wise wins thrilling All Star race at Attica; Schlenk dominates late models; Weaver back in victory lane in 305s
Saturday, June 4, 2022
By Brian Liskai
ATTICA, Ohio – Zeb Wise and Cory Eliason threw hay-makers at one another lap after lap after lap at Attica Raceway Park Friday night. A caution with eight laps to go gave Wise a clear track and the Angola, Indiana youngster used it to his advantage and drove to his third career Tezos All Star Circuit of Champions Presented by Mobil 1 victory on Ferguson Waterworks Night.
It was Wise's second career All Star win at Attica which was hosting the travelling sprint car series for the 135th time. Wise now has three total victories at Attica and this one was worth $6,000.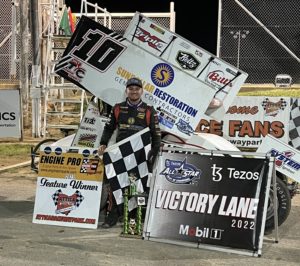 "How about that race…that was bad ass. Man what a race. There in lapped traffic it was so hard to tell where to be. I felt like I was going to slow on the bottom. I tried the top one time and I saw Cory on the bottom. The way the lapped cars were running it was so hard for me to stay behind them but that was the best thing I could have done. Man I say enough about these guys. We've kind of had a rough year and struggled a little bit. Wayne, my dad, Conner, Derek…everyone that puts their hearts and souls in this team has got us back where we belong at Attica. Hopefully we can carry this into speedweek…we've got a really good package right now," said Wise beside his Sun Dollar Restoration/Quik Pits Auto/Jason Dietsch Trailer Sales/Bill's Towing/TC Power Sports/Specialty Rigging backed #10.
For Eliason, it was another great run at Attica that fell just short.
"I was kind of wanting the caution but I wanted to be in first when it came. Zeb was just better than us in one and two. Ultimately it was a good run for us. I say it all the time…this track eludes me. We've finished second a few times now. I got here early and had a 20 minute talk with it…guess I need to have a 30 minute chat next week and talk about all four corners and not just one. I feel like we're pointing in the right direction. We have the speed and can compete," said Eliason of his Rudeen Racing/Rayce Rudeen Foundation/Hager Realty/Elliotts Custom Trailers and Cars/Fatheads Eyewear backed #26.
Sikeston, Missouri's Hunter Schuerenberg took something in his eye in his heat and it made for tough viewing in the feature but he still managed a third place finish.
"It's always a place I always enjoy coming. Honestly I think our car was pretty good. I took something to the eye in the heat race and it got really irritated in the feature and I felt like I couldn't see where I was going and was just hanging on. I think the car was better than what I showed tonight," said Schuerenberg of his Roofbolt Express/TK Concrete/Maxim Trucking/Logan Contractors.
McClure, Ohio's Rusty Schlenk took the lead from defending Attica late model champion Devin Shiels on lap nine and never looked back, dominating for the $2,000 feature win. It was Schlenk's 32nd career win in the Dirt Nerds Podcast/Propane.com UMP Late Models at Attica.
"You have to be an idiot to go up there (cushion in turns three and four) and run that thing right now. I'm definitely an idiot. That cushion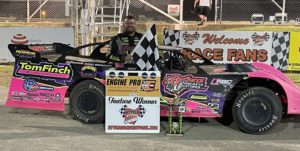 is treacherous right now. It's probably one of the hardest cushions I've ever ran here. I love to rip around the top here. You have to be gentle and thank God our car was good enough I didn't have to rely on the cushion…I could roll around about a half a car length off of it. I got into a couple of times…thought it was going to be bad. It feels good…we have a really good car right now. I did my homework and built a brand new car this winter and back to where we need to be," said Schlenk beside his Velicita Fire Suits, VP Fuels, Dominator Race Products, Bilstein Shocks, Lendrum Springs, Tom Finch Auto backed #91.
Paul Weaver has more career sprint car wins at Attica than any other driver. The five time Attica 305 track champion had yet to win in 2022. That came to a stop Friday as the Fremont, Ohio driver scored a dominate victory worth $1,000. It was his 65th career win in the Fremont Fence 305 sprints. He now has 68 combined total feature wins at the track.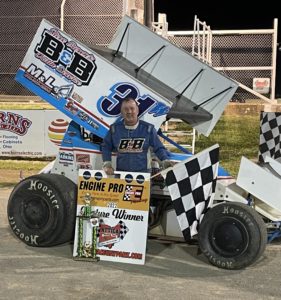 "I had fun at one end of the track and was bored at the other. The cushion down here (three and four) was forgiving. You could screw up and it would keep you on the track. One and two took rubber. There's two cars…started with the other and it was only good for second or third so I put this one together. It's full of cracks and has been welded up but it worked," said Weaver of his Steve Brown's B&B Drain Service, Hampshire Racing Engines, M&L Excavating, Seagate Sandblasting, Fostoria Mod Shop sponsored #31.
At the drop of the green for the 40-lap All Star feature, Wise bolted into the lead over Eliason, Schuerenberg, Cole Macedo, Park Price-Miller, Craig Mintz and Ian Madsen. While battling for fifth, Price-Miller and Mintz tangled on lap two for a quick caution. Wise bolted back into the lead with Eliason right on his rear bumper until another caution on lap seven.
When the green flew Wise and Eliason stayed nose to tail while Schuerenberg ran a solid third with Madsen, Macedo and Tyler Courtney battling for fourth. Heavy lapped traffic came into play on lap 14 and Wise and Eliason were slicing and dicing their way through. Eliason used traffic to execute a slider for the lead on lap 18 but Wise returned the favor on lap 20 with Eliason back to the point a lap later.
Wise retook the lead on lap 22 and he and Eliason traded sliders lap after lap until the Jordan Ryan and Bill Balog tangled on lap 32. A lap later and another caution set up a seven lap shoot out. Wise was perfect on the restart and pulled away from Eliason to take the win.
In the 25 lap late model feature, Justin Chance grabbed the early lead but Shiels powered into the top spot on lap two, Schlenk powered by Shiels on lap nine and drove away for the win over Shiels, Casey Noonan, Chance and Collin Shipley.
Brandon Moore took the lead at the drop of the green for the 25 lap 305 sprint A-main with Kasey Jedrzejek, Jamie Miller, Mike Keegan and Weaver in pursuit. Weaver drove into second on lap two and took the lead three circuits later. Only a couple of cautions kept the field close. Weaver drove away following the last caution with eight laps to go for the win over Miller, Moore, Seth Schneider and Jedrzejek.
The All Stars return to Attica Friday, June 10 to kick off the 40th Annual Cometic Gasket Ohio Sprint Speedweek for the Bert and Brigitte Emick Classic on Ohio Laborers/Ohio Cat/True Alpha Wealth Management Night. The late models will also be in action.
For more information go to www.atticaracewaypark.comor follow the track on Twitter @atticaracewyprk or on Facebook at www.facebook.com/atticaracewaypark and Instagram at attica_raceway_park.
About Ferguson Waterworks – www.ferguson.com
Ferguson Waterworks delivers quality products and innovative solutions across the water, sanitary sewer and storm water management industries. As one of the nation's largest waterworks companies, Ferguson puts your needs first. Every day, public and private water sewer authorities, utility contractors, public works/line contractors and heavy highway contractors count on Ferguson because of our world-class service. The nearest Ferguson Waterworks are located in Maumee, Toledo, Cleveland, Akron, Lima, Mentor and Dayton
Attica Raceway Park
Friday, June 3, 2022
All Star Circuit of Champions
Contingency Awards/Results:
Entries 38
C&R Racing Hot Laps:
Dixie Vodka Fast Qualifier: Parker Price Miller | 12.464
Hunt Brothers Pizza Heat 1 Winner: Parker Price Miller
Competition Suspension Inc Heat 2 Winner: Cole Macedo
All Pro Aluminum Cylinder Heads Heat 3 Winner: Zeb Wise
Mobil 1 Heat 4 Winner: Cory Eliason
Elliott's Custom Trailers Dash Winner: Zeb Wise
Classic Ink USA B-main Winner: Byron Reed
Rayce Rudeen Foundation First Non-Transfer: Chris Windom
Mobil 1 A-main Winner: Zeb Wise
Hercules Tires A-Main Hard Charger: Greg Wilson (+11)
Qualifying
Group (A)
11-Parker Price Miller, 12.464; 2. 28-Brandon Spithaler, 12.638; 3. 49X-Ian Madsen, 12.746; 4. 8-Zach Ames, 12.851; 5. 5T-Travis Philo, 12.981; 6. 97-Greg Wilson, 13.087; 7. 19-Chris Windom, 13.106; 8. 33W-Caleb Griffith, 13.266; 9. 2L-Landon Lalonde, 13.275; 10. 28M-Conner Morrell, 15.010
Group (B)
18-Cole Macedo, 12.761; 2. 35-Stuart Brubaker, 12.867; 3. 25R-Jordan Ryan, 12.916; 4. 7-Scott Bogucki, 12.957; 5. 3J-Trey Jacobs, 13.066; 6. 91-Kyle Reinhardt, 13.099; 7. 11N-Paul McMahan, 13.271; 8. 101-Lachlan McHugh, 13.294; 9. 12-Kyle Capodice, 13.427; 10. 20-Daniel Burkhart, 13.902
Group (C)
O9-Craig Mintz, 12.632; 2. 10-Zeb Wise, 12.702; 3. 4-Cap Henry, 12.742; 4. 17B-Bill Balog, 13.036; 5. 70-Henry Malcuit, 13.194; 6. 49i-John Ivy, 13.208; 7. 8M-TJ Michael, 13.258; 8. 17-Carson Short, 13.296; 9. 75-Jerry Dahms, 14.130
Group (D)
55-Hunter Schuerenberg, 12.689; 2. 13-Justin Peck, 12.772; 3. 23-Chris Andrews, 12.817; 4. 26-Cory Eliason, 12.830; 5. 99-Skylar Gee, 13.028; 6. 5-Byron Reed, 13.071; 7. 16-DJ Foos, 13.217; 8. 7BC-Tyler Courtney, 13.733; 9. 25-Chris Myers, 13.979
Heat 1 (8 Laps) – Top 5 Transfer
11-Parker Price Miller [4]; 2. 49X-Ian Madsen [2]; 3. 28-Brandon Spithaler [1]; 4. 8-Zach Ames [3]; 5. 5T-Travis Philo [5]; 6. 19-Chris Windom [7]; 7. 33W-Caleb Griffith [8]; 8. 97-Greg Wilson [6]; 9. 2L-Landon Lalonde [9]; 10. 28M-Conner Morrell [10]
Heat 2 (8 Laps) – Top 5 Transfer
18-Cole Macedo [4]; 2. 35-Stuart Brubaker [1]; 3. 25R-Jordan Ryan [2]; 4. 3J-Trey Jacobs [5]; 5. 91-Kyle Reinhardt [6]; 6. 7-Scott Bogucki [3]; 7. 11N-Paul McMahan [7]; 8. 12-Kyle Capodice [9]; 9. 20-Daniel Burkhart [10]; 10. 101-Lachlan McHugh [8]
Heat 3 (8 Laps) – Top 5 Transfer
10-Zeb Wise [1]; 2. 17B-Bill Balog [3]; 3. 4-Cap Henry [2]; 4. O9-Craig Mintz [4]; 5. 70-Henry Malcuit [5]; 6. 49i-John Ivy [6]; 7. 8M-TJ Michael [7]; 8. 75-Jerry Dahms [9]; 9. 17-Carson Short [8]
Heat 4 (8 Laps) – Top 5 Transfer
26-Cory Eliason [3]; 2. 7BC-Tyler Courtney [8]; 3. 13-Justin Peck [1]; 4. 55-Hunter Schuerenberg [4]; 5. 16-DJ Foos [7]; 6. 5-Byron Reed [6]; 7. 99-Skylar Gee [5]; 8. 25-Chris Myers [9]; 9. 23-Chris Andrews [2]
Dash (6 Laps)
10-Zeb Wise [1]; 2. 26-Cory Eliason [3]; 3. 55-Hunter Schuerenberg [5]; 4. O9-Craig Mintz [6]; 5. 18-Cole Macedo [4]; 6. 11-Parker Price Miller [2]
B-main (12 Laps) – Top 4 Transfer
5-Byron Reed [3]; 2. 23-Chris Andrews [1]; 3. 97-Greg Wilson [10]; 4. 7-Scott Bogucki [2]; 5. 19-Chris Windom [4]; 6. 99-Skylar Gee [6]; 7. 8M-TJ Michael [7]; 8. 12-Kyle Capodice [11]; 9. 11N-Paul McMahan [9]; 10. 2L-Landon Lalonde [14]; 11. 49i-John Ivy [5]; 12. 17-Carson Short [15]; 13. 28M-Conner Morrell [18]; 14. 25-Chris Myers [12]; 15. 20-Daniel Burkhart [16]; 16. 75-Jerry Dahms [13]; 17. 33W-Caleb Griffith [8]
A-main (40 Laps)
10-Zeb Wise [1]; 2. 26-Cory Eliason [2]; 3. 55-Hunter Schuerenberg [3]; 4. 13-Justin Peck [13]; 5. 7BC-Tyler Courtney [10]; 6. 4-Cap Henry [12]; 7. 18-Cole Macedo [5]; 8. 3J-Trey Jacobs [15]; 9. 49X-Ian Madsen [7]; 10. 5T-Travis Philo [16]; 11. 97-Greg Wilson [22]; 12. 5-Byron Reed [20]; 13. 28-Brandon Spithaler [11]; 14. 91-Kyle Reinhardt [17]; 15. 19-Chris Windom [24]; 16. 11-Parker Price Miller [6]; 17. 17B-Bill Balog [9]; 18. 23-Chris Andrews [21]; 19. O9-Craig Mintz [4]; 20. 16-DJ Foos [19]; 21. 25R-Jordan Ryan [14]; 22. 35-Stuart Brubaker [8]; 23. 70-Henry Malcuit [18]; 24. 7-Scott Bogucki [23]; 25. 8-Zach Ames [25]
305 Sprints – Fremont Fence
Qualifying
1.31-Paul Weaver, 13.969; 2.32-Bryce Lucius, 14.103; 3.5K-Kasey Jedrzejek, 14.250; 4.9R-Logan Riehl, 14.284; 5.26-Jamie Miller, 14.320; 6.X-Mike Keegan, 14.320; 7.36-Seth Schneider, 14.341; 8.19R-Steve Rando, 14.446; 9.12F-Matt Foos, 14.453; 10.7M-Brandon Moore, 14.475; 11.01-Bryan Sebetto, 14.531; 12.21-Larry Kingseed Jr, 14.550; 13.3V-Chris Verda, 14.615; 14.15K-Creed Kemenah, 14.649; 15.47-Matt Lucius, 14.688; 16.5M-Mike Moore, 14.696; 17.86-Zack Miller, 14.772; 18.5-Kody Brewer, 14.821; 19.3X-Brandon Riehl, 14.905; 20.2-Brenden Torok, 14.921; 21.51-Garrett Craine, 14.938; 22.5JR-Jim McGrath Jr., 14.966; 23.3M-Logan Mongeau, 14.969; 24.63-Randy Ruble, 14.985; 25.13S-Drew Siferd, 15.005; 26.16-Lee Sommers, 15.199; 27.51M-Haldon Miller, 15.297; 28.34-Jud Dickerson, 15.419; 29.78-Austin Black, 15.429; 30.10TS-Tyler Schiets, 15.587; 31.86S-Spencer Stineman, 15.641;
Heat 1, Group A – (8 Laps)
5K-Kasey Jedrzejek[3] ; 2. 31-Paul Weaver[4] ; 3. 26-Jamie Miller[2] ; 4. 5JR-Jim McGrath Jr.[6] ; 5. 5-Kody Brewer[1] ; 6. 51-Garrett Craine[5] ; 7. 34-Jud Dickerson[8] ; 8. 13S-Drew Siferd[7]
Heat 2, Group B – (8 Laps)
7M-Brandon Moore[3] ; 2. 21-Larry Kingseed Jr[2] ; 3. 36-Seth Schneider[4] ; 4. 16-Lee Sommers[7] ; 5. 3M-Logan Mongeau[5] ; 6. 63-Randy Ruble[6] ; 7. 86S-Spencer Stineman[8] ; 8. 86-Zack Miller[1]
Heat 3, Group C – (8 Laps)
19R-Steve Rando[1] ; 2. X-Mike Keegan[2] ; 3. 01-Bryan Sebetto[5] ; 4. 32-Bryce Lucius[4] ; 5. 9R-Logan Riehl[3] ; 6. 3V-Chris Verda[6] ; 7. 3X-Brandon Riehl[7] ; 8. 51M-Haldon Miller[8]
Heat 4, Group D – (8 Laps)
12F-Matt Foos[4] ; 2. 5M-Mike Moore[1] ; 3. 15K-Creed Kemenah[3] ; 4. 78-Austin Black[6] ; 5. 10TS-Tyler Schiets[7] ; 6. 47-Matt Lucius[2] ; 7. 2-Brenden Torok[5]
B-Main 1 – (8 Laps)
5-Kody Brewer[1] ; 2. 9R-Logan Riehl[2] ; 3. 3V-Chris Verda[4] ; 4. 3X-Brandon Riehl[6] ; 5. 34-Jud Dickerson[5] ; 6. 51M-Haldon Miller[8] ; 7. 13S-Drew Siferd[7] ; 8. 51-Garrett Craine[3]
B-Main 2 – (8 Laps)
47-Matt Lucius[4] ; 2. 86-Zack Miller[7] ; 3. 3M-Logan Mongeau[1] ; 4. 63-Randy Ruble[3] ; 5. 86S-Spencer Stineman[5] ; 6. 10TS-Tyler Schiets[2] ; 7. 2-Brenden Torok[6]
A-Main 1 – (25 Laps)
31-Paul Weaver[8] ; 2. 26-Jamie Miller[6] ; 3. 7M-Brandon Moore[1] ; 4. 36-Seth Schneider[11] ; 5. 5K-Kasey Jedrzejek[2] ; 6. 01-Bryan Sebetto[12] ; 7. 32-Bryce Lucius[5] ; 8. 15K-Creed Kemenah[13] ; 9. 5JR-Jim McGrath Jr.[14] ; 10. 3V-Chris Verda[21] ; 11. 5-Kody Brewer[17] ; 12. 19R-Steve Rando[10] ; 13. 21-Larry Kingseed Jr[9] ; 14. 47-Matt Lucius[18] ; 15. X-Mike Keegan[4] ; 16. 86-Zack Miller[20] ; 17. 78-Austin Black[16] ; 18. 3M-Logan Mongeau[22] ; 19. 5M-Mike Moore[3] ; 20. 12F-Matt Foos[7] ; 21. 9R-Logan Riehl[19] ; 22. 16-Lee Sommers[15]
Late Models – Dirt Nerds Podcast/Propane.com
Qualifying
1.94-Mike Bores, 15.274; 2.92-Justin Chance, 15.478; 3.91-Rusty Schlenk, 15.760; 4.5M-Ryan Markham, 15.864; 5.1N-Casey Noonan, 15.876; 6.27W-Eric Wilson, 15.976; 7.44-Colin Shipley, 15.997; 8.51-Devin Shiels, 16.142; 9.101-Chester Fitch, 16.320; 10.30-Nate Potts, 16.334; 11.56-BJ Gregory, 16.373; 12.59-Larry Bellman, 16.390; 13.71DS-Drew Smith, 16.428; 14.27-Ken Hahn, 16.599; 15.74-Jeff Warnick, 16.751; 16.20P-Jim Plotts, 17.264; 17.69R-Doug Baird, 17.301; 18.16-Steve Sabo, 17.483; 19.11-Austin Gibson, 18.114; 20.23-Ryan Shepherd, 99.990;
Heat 1, Group A – (8 Laps)
27W-Eric Wilson[3] ; 2. 44-Colin Shipley[2] ; 3. 1N-Casey Noonan[4] ; 4. 71DS-Drew Smith[5] ; 5. 11-Austin Gibson[6] ; 6. 23-Ryan Shepherd[7] ; 7. 30-Nate Potts[1]
Heat 2, Group B – (8 Laps)
51-Devin Shiels[4] ; 2. 74-Jeff Warnick[1] ; 3. 56-BJ Gregory[3] ; 4. 59-Larry Bellman[2] ; 5. 20P-Jim Plotts[5] ; 6. 69R-Doug Baird[6] ; 7. 16-Steve Sabo[7]
Heat 3, Group C – (8 Laps)
91-Rusty Schlenk[2] ; 2. 92-Justin Chance[3] ; 3. 94-Mike Bores[4] ; 4. 5M-Ryan Markham[1] ; 5. 27-Ken Hahn[6] ; 6. 101-Chester Fitch[5]
A-Main 1 – (25 Laps)
91-Rusty Schlenk[5] ; 2. 51-Devin Shiels[2] ; 3. 1N-Casey Noonan[6] ; 4. 92-Justin Chance[1] ; 5. 44-Colin Shipley[8] ; 6. 27W-Eric Wilson[7] ; 7. 5M-Ryan Markham[12] ; 8. 71DS-Drew Smith[10] ; 9. 56-BJ Gregory[9] ; 10. 59-Larry Bellman[11] ; 11. 27-Ken Hahn[15] ; 12. 69R-Doug Baird[16] ; 13. 20P-Jim Plotts[14] ; 14. 74-Jeff Warnick[4] ; 15. 11-Austin Gibson[13] ; 16. 101-Chester Fitch[17] ; 17. 94-Mike Bores[3] ; 18. 16-Steve Sabo[18]
About Ferguson Waterworks – www.ferguson.com
Ferguson Waterworks delivers quality products and innovative solutions across the water, sanitary sewer and storm water management industries. As one of the nation's largest waterworks companies, Ferguson puts your needs first. Every day, public and private water sewer authorities, utility contractors, public works/line contractors and heavy highway contractors count on Ferguson because of our world-class service. The nearest Ferguson Waterworks are located in Maumee, Toledo, Cleveland, Akron, Lima, Mentor and Dayton