FOR IMMEDIATE RELEASE
Saturday, Sept. 3, 2022
By Brian Liskai
ATTICA, Ohio – Cory Eliason has had a "love/hate" relationship with Attica Raceway Park. The Visalia, California driver has finished on the podium several times over the past couple of years at "Ohio's Finest Racing" track but just couldn't seem to find victory lane. That came to an end Saturday, Sept. 2 to wrap up the Attica Ambush weekend as he dominated the 35-lap 410 sprint feature for a $7,000 pay off on Great Lakes Truck Centers/All Pro Aluminum Cylinder Heads Night.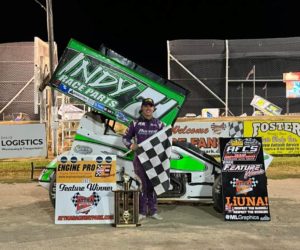 Eliason, who parted ways a few weeks ago with his All Star Circuit of Champions team, drove the Bernie and Betsy Stuebgen owned Indy Race Parts backed #71 to a convincing win, even surviving a restart with just four laps to go. Eliason joked in the past he was going to get to Attica early to have a talk with the track for better results.
"We got here at 4:30…maybe I was doing it all wrong, maybe I got here early and tried to talk to it and just made it mad…just needed to let do its thing. It's a good feeling…this place eluded me. We've had two or three speedweek times where we've run second and just ran second earlier this year. I can't thank Bernie and Betsy enough for giving me this opportunity. It's been a tough season and it's a good feeling to know I can still get the job done and do it for them. We couldn't come out yesterday because Bernie has a business and he has work to do…he has to stay and work to pay the bills," said Eliason.
"I got to lapped traffic and the track got dirtier and I kind of started searching and I knew I wasn't as quick as I was in clean air. I didn't know how big a lead I had. I knew Tim (Shaffer) was quick in the heat race and I had a good battle with him for quite awhile and I knew he was going to be coming. I just kept going as hard as I could. I'm thankful for those yellows. That last one I had gotten to three lapped cars racing middle, top and bottom and I didn't really know where to go. I haven't really gotten along with this place over the years but it goes to show if you keep pursuing it it will get better," added Eliason.
With his sixth place finish Cole Macedo pads his lead in the All Pro Aluminum Cylinder Heads/Kistler Racing Products Attica Fremont Championship Series presented by the Baumann Auto Group heading into the championship weekend.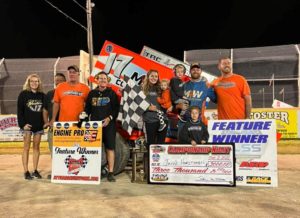 After a tremendous battle early with Tyler Rankin, Cloverdale, Ohio's Jared Horstman took the lead for good on lap 13 of the 25-lap Great Lakes Super Sprints feature and drove to his second career 360 win at Attica. The victory wrapped up the sixth championship of the Ohio Logistics National Racing Alliance Sprint Invaders and was worth $3,000. Also, Elida, Ohio's Max Stambaugh came home third and claimed the 2022 Great Lakes Super Sprints title.
"The guys back in the pits did a heck of a job putting this thing together. Tyler (Rankin) was good on the top and we crossed slide jobs a few times there and got together down the back stretch…didn't mean for that to happen. The car was good and can't complain a bit. This is good tight racing. A good group here with the NRA and GLSS coming together…a fantastic field and great to see this program building," said Horstman beside his M&W Construction, Miller Construction, T&D Interiors, Scott Miller Trucking backed #17.
Fremont, Ohio's Matt Foos, Attica's 2015 dirt truck track champion, took the lead with just six laps to go in the Fremont Fence 305 Sprint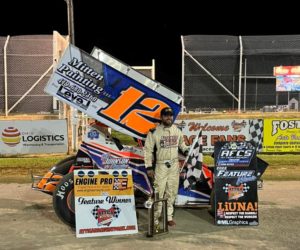 feature and held off a charging Paul Weaver who had started 17th, to claim his third victory of the season at Attica and the seventh of his career at the track.
"What a weekend. We will take a second (Friday) and a win! We were all racing hard there and when that caution came out (with four laps to go) I really didn't even know I was in the lead. This old car carries some torch marks from Tony Beaber and still runs fantastic," said Foos beside his Level Performance, Mitten Painting, Fremont Fence, Rohr Total Lawn Care, DJ Johnson & Family, M&L Excavating, Level Utilities, Chuck's Budget Brakes, The Car Spa, Berryman Racing Shocks, Kear's Speed Shop, 818 Club backed #12.
Weaver's big run to second pads his point lead in the NAPA of Bryan AFCS presented by Jason Dietsch Trailer Sales heading to championship weekend.
In the 35-lap Callie's Performance Products 410 Sprint feature, Eliason grabbed the early lead over Byron Reed, Zeth Sabo, Friday night's winner Tim Shaffer, Cole Macedo and Travis Philo. After a lap one caution, Shaffer took third and pressured Reed for second as Eliason pulled away.
Just as Eliason got to lapped traffic on lap eight a caution flew as he led Reed, Shaffer, Sabo, Philo, Cole Macedo and Cale Thomas. When the race resumed Eliason again pulled away from Reed and Shaffer and Thomas vaulted into the fourth spot.
As Eliason prepared to enter heavy lapped traffic again on lap 16 the caution flew followed by a red as Philo spun battling for fourth with DJ Foos with no place to go, flipping off turn two (he was not injured).
Once again on the restart Eliason pulled away from Reed as Shaffer and Trey Jacobs battled for thirds. With four laps to go Jacobs would spin setting up a four lap battle to the checkers. Eliason got a great restart and drove away to the win over Shaffer, Reed, Thomas and Chris Andrews.
Tylar Rankin jumped into the lead of the GLSS feature over Stambaugh, Horstman Zane DeVault, Dan McCarron and Hud Horton. Horstman began pressuring Stambaugh for second on lap five right before a red on lap seven for a flipping Dustin Daggett who was uninjured.
On the restart Horstman took second and drove to Rankin's inside for the lead as the pair made heavy contact down the back stretch but kept rolling. Rankin and Horstman traded sliders lap after lap until there were 12 to go when Horstman solidified his position at the front. A red for a tip over by Bryan Sebetto on lap 14 kept the field close.
On the ensuing restart McCarron took second from Rankin but Horstman was pulling away. McCarron closed the final four laps but Horstman drove to the win. Stambaugh, Phil Gressman and Rankin rounded out the top five.
Matt Lucius grabbed the early lead of the 25-lap 305 sprint A-main over Kody Brewer, Mike Keegan, Kasey Jedrzejek and Steve Rando. A caution on lap three saw the restart order of Lucius, Keegan, Brewer and Jedrzejek who took third a circuit later. Keegan took the lead on lap 12 but had a challenge from Lucius and Jedrzejek
With 10 laps to go it was a great four car battle for the lead involving Keegan, Jedrzejek, Jamie Miller and Foos who had started eighth. Jedrzejek, who won his first Attica feature the previous Friday, grabbed the top spot on lap 17 only to see Foos use lapped traffic to seize the top spot on lap 19.
After a caution for second running Jedrzejek with four laps to go, the restart would see Foos lead Weaver who drove through the pack from his 17th starting position. Foos was not to be denied as he took the checkers over Weaver, Keegan, Miller and Brewer.
Attica Raceway Park will wrap up the 2022 season on Friday, Sept. 9 for Kistler Racing Products/Jon Wright's Custom Chrome Plating presents the Mark Keegan Classic Season Championship Night (rain date of Sept. 16). The AFCS 410 sprints will pay $4,000 to win while the UMP late models will battle for $2,000 to win and the AFCS 305 sprints going for $1,000 to win.
For more information go to www.atticaracewaypark.comor follow the track on Twitter @atticaracewyprk or on Facebook at www.facebook.com/atticaracewaypark and Instagram at attica_raceway_park.
About All Pro Heads – www.allproheads.com
All Pro Heads is based in Johnstown, Ohio and is owned by Bob and Suzie Williams. All Pro is the industry leader in small block Chevy aluminum cylinder heads, catering to the hard core racer always looking for the perfect design for a specific application. Whether it's Sprints, Super Late Models, Drag Racing, Off-Road, Marine or Road Racing, you can count on All Pro. For engine builders and racers seeking a distinct advantage give All Pro Aluminum Cylinder Heads a call!
About Great Lakes Truck Centers – https://www.greatlakestruckcenters.com/
Great Lakes Truck Centers is a wholly owned subsidiary of Valley Truck Centers since 1964 and serves more than 35 counties throughout Ohio. Great Lakes Truck Centers takes pride in serving their customers and taking care of their Freightliner and Western Star needs. Great Lakes Truck Centers also services Detroit, Detroit Diesel, Caterpillar, CAT, Cummins, Allison, Eaton, Eaton Fuller, and Meritor equipped units. Fully stocked parts shelves at Great Lakes Truck Centers feature Alliance all-makes parts, Freightliner, Detroit, Western Star, Cummins, Eaton Fuller, Caterpillar, CAT, and any part for your fleet to ensure uptime! There are Great Lakes Truck Centers in Monroeville, Cleveland, Akron, Mansfield, Toledo and Monroe.
Attica Raceway Park
Saturday, Sept. 3, 2022
410 Sprints – Callies Performance Products
Qualifying
1.45-Tim Shaffer, 12.878; 2.18-Cole Macedo, 13.009; 3.71-Cory Eliason, 13.050; 4.5T-Travis Philo, 13.061; 5.99-Skyler Gee, 13.149; 6.16-DJ Foos, 13.168; 7.16C-Tylar Rankin, 13.185; 8.3J-Trey Jacobs, 13.275; 9.68G-Tyler Gunn, 13.386; 10.24D-Danny Sams, 13.410; 11.33W-Caleb Griffith, 13.454; 12.23-Chris Andrews, 13.473; 13.29-Zeth Sabo, 13.498; 14.25R-Jordan Ryan, 13.527; 15.2-Ricky Peterson, 13.601; 16.35-Stuart Brubaker, 13.643; 17.12G-Corbin Gurley, 13.791; 18.47BC-Emerson Axsom, 13.848; 19.2+-Brian Smith, 13.887; 20.49X-Cale Thomas, 13.937; 21.11N-Ayrton Olsen, 14.040; 22.49I-John Ivy, 14.103; 23.5-Byron Reed, 14.164; 24.15K-Creed Kemenah, 14.259; 25.12-Kyle Capodice, 14.341; 26.00-Jake Hesson, 14.503; 27.75-Jerry Dahms, 14.550; 28.7N-Darin Naida, 14.593; 29.25-Chris Myers, 14.620; 30.101-Scott Bogucki, 14.721; 31.1M-Jamie Myers, 14.932; 32.6J-Jonah Aumend, 15.419;
Heat 1, Group A – (8 Laps)
16-DJ Foos[2] ; 2. 18-Cole Macedo[4] ; 3. 23-Chris Andrews[5] ; 4. 5T-Travis Philo[3] ; 5. 49I-John Ivy[7] ; 6. 16C-Tylar Rankin[1] ; 7. 12G-Corbin Gurley[6] ; 8. 75-Jerry Dahms[8]
Heat 2, Group B – (8 Laps)
25R-Jordan Ryan[1] ; 2. 29-Zeth Sabo[2] ; 3. 33W-Caleb Griffith[3] ; 4. 3J-Trey Jacobs[4] ; 5. 2+-Brian Smith[5] ; 6. 12-Kyle Capodice[8] ; 7. 11N-Ayrton Olsen[6] ; 8. 15K-Creed Kemenah[7]
Heat 3, Group C – (8 Laps)
99-Skyler Gee[2] ; 2. 45-Tim Shaffer[4] ; 3. 71-Cory Eliason[3] ; 4. 24D-Danny Sams[5] ; 5. 2-Ricky Peterson[6] ; 6. 101-Scott Bogucki[8] ; 7. 35-Stuart Brubaker[7] ; 8. 68G-Tyler Gunn[1]
Heat 4, Group D – (8 Laps)
49X-Cale Thomas[3] ; 2. 5-Byron Reed[2] ; 3. 00-Jake Hesson[1] ; 4. 47BC-Emerson Axsom[4] ; 5. 7N-Darin Naida[5] ; 6. 25-Chris Myers[6] ; 7. 1M-Jamie Myers[7] ; 8. 6J-Jonah Aumend[8]
B-Main 1 – (8 Laps)
49I-John Ivy[1] ; 2. 2-Ricky Peterson[2] ; 3. 35-Stuart Brubaker[6] ; 4. 16C-Tylar Rankin[3] ; 5. 12G-Corbin Gurley[5] ; 6. 75-Jerry Dahms[7] ; 7. 101-Scott Bogucki[4] ; 8. 68G-Tyler Gunn[8]
B-Main 2 – (8 Laps)
7N-Darin Naida[2] ; 2. 2+-Brian Smith[1] ; 3. 12-Kyle Capodice[3] ; 4. 11N-Ayrton Olsen[5] ; 5. 15K-Creed Kemenah[7] ; 6. 25-Chris Myers[4] ; 7. 1M-Jamie Myers[6] ; 8. 6J-Jonah Aumend[8]
A-Main 1 – (35 Laps)
71-Cory Eliason[2] ; 2. 45-Tim Shaffer[4] ; 3. 5-Byron Reed[1] ; 4. 49X-Cale Thomas[10] ; 5. 23-Chris Andrews[11] ; 6. 18-Cole Macedo[6] ; 7. 29-Zeth Sabo[3] ; 8. 47BC-Emerson Axsom[16] ; 9. 99-Skyler Gee[9] ; 10. 33W-Caleb Griffith[12] ; 11. 2-Ricky Peterson[19] ; 12. 3J-Trey Jacobs[14] ; 13. 49I-John Ivy[17] ; 14. 16-DJ Foos[5] ; 15. 2+-Brian Smith[20] ; 16. 7N-Darin Naida[18] ; 17. 24D-Danny Sams[15] ; 18. 5T-Travis Philo[8] ; 19. 12-Kyle Capodice[22] ; 20. 35-Stuart Brubaker[21] ; 21. 25R-Jordan Ryan[7] ; 22. 00-Jake Hesson[13]
305 Sprints – Fremont Fence
Qualifying
1.12-Matt Foos, 14.262; 2.31-Paul Weaver, 14.292; 3.X-Mike Keegan, 14.311; 4.5i-John Ivy, 14.340; 5.3F-Wade Fraley, 14.381; 6.5K-Kasey Jedrzejek, 14.394; 7.28-Shawn Valenti, 14.412; 8.5-Kody Brewer, 14.472; 9.3X-Brandon Riehl, 14.493; 10.19R-Steve Rando, 14.502; 11.26-Jamie Miller, 14.523; 12.47-Matt Lucius, 14.530; 13.51M-Haldon Miller, 14.548; 14.16-Bryan Sebetto, 14.585; 15.15K-Creed Kemenah, 14.613; 16.34-Jud Dickerson, 14.684; 17.22-Justin Lusk, 14.687; 18.20I-Kelsey Ivy, 14.690; 19.9R-Logan Riehl, 14.777; 20.13S-Drew Siferd, 14.808; 21.48-Mike Burkin, 14.822; 22.10TS-Tyler Schiets, 14.839; 23.7M-Brandon Moore, 14.880; 24.3M-Logan Mongeau, 14.900; 25.5JR-Jim McGrath Jr., 14.923; 26.77X-Jamin Kindred, 15.024; 27.63-Randy Ruble, 15.039; 28.13-Jeremy Duposki, 15.048; 29.86-Zack Miller, 15.269; 30.23-Ron Hamlin, 15.571;
Heat 1, Group A – (8 Laps)
47-Matt Lucius[2] ; 2. 15K-Creed Kemenah[1] ; 3. 3F-Wade Fraley[4] ; 4. 28-Shawn Valenti[3] ; 5. 20I-Kelsey Ivy[5] ; 6. 48-Mike Burkin[6] ; 7. 63-Randy Ruble[7] ; 8. 86-Zack Miller[8]
Heat 2, Group B – (8 Laps)
5K-Kasey Jedrzejek[1] ; 2. 19R-Steve Rando[6] ; 3. 5i-John Ivy[2] ; 4. X-Mike Keegan[3] ; 5. 31-Paul Weaver[4] ; 6. 16-Bryan Sebetto[7] ; 7. 3X-Brandon Riehl[5] ; 8. 3M-Logan Mongeau[8]
Heat 3, Group C – (8 Laps)
22-Justin Lusk[1] ; 2. 26-Jamie Miller[3] ; 3. 51M-Haldon Miller[2] ; 4. 5-Kody Brewer[4] ; 5. 7M-Brandon Moore[5] ; 6. 77X-Jamin Kindred[6] ; 7. 23-Ron Hamlin[7]
Heat 4, Group D – (8 Laps)
12-Matt Foos[4] ; 2. 9R-Logan Riehl[2] ; 3. 5JR-Jim McGrath Jr.[6] ; 4. 13S-Drew Siferd[1] ; 5. 10TS-Tyler Schiets[5] ; 6. 34-Jud Dickerson[3] ; 7. 13-Jeremy Duposki[7]
B-Main 1 – (10 Laps)
31-Paul Weaver[2] ; 2. 20I-Kelsey Ivy[1] ; 3. 16-Bryan Sebetto[6] ; 4. 7M-Brandon Moore[3] ; 5. 10TS-Tyler Schiets[4] ; 6. 3X-Brandon Riehl[10] ; 7. 63-Randy Ruble[9] ; 8. 34-Jud Dickerson[8] ; 9. 3M-Logan Mongeau[14] ; 10. 13-Jeremy Duposki[12] ; 11. 77X-Jamin Kindred[7] ; 12. 23-Ron Hamlin[11] ; 13. 48-Mike Burkin[5] ; 14. 86-Zack Miller[13]
A-Main 1 – (25 Laps)
12-Matt Foos[8] ; 2. 31-Paul Weaver[17] ; 3. X-Mike Keegan[3] ; 4. 26-Jamie Miller[7] ; 5. 5-Kody Brewer[1] ; 6. 19R-Steve Rando[5] ; 7. 3F-Wade Fraley[11] ; 8. 16-Bryan Sebetto[19] ; 9. 9R-Logan Riehl[10] ; 10. 15K-Creed Kemenah[9] ; 11. 5JR-Jim McGrath Jr.[14] ; 12. 3X-Brandon Riehl[22] ; 13. 7M-Brandon Moore[20] ; 14. 5i-John Ivy[12] ; 15. 20I-Kelsey Ivy[18] ; 16. 47-Matt Lucius[2] ; 17. 22-Justin Lusk[4] ; 18. 10TS-Tyler Schiets[21] ; 19. 51M-Haldon Miller[13] ; 20. 5K-Kasey Jedrzejek[6] ; 21. 28-Shawn Valenti[15] ; 22. 13S-Drew Siferd[16]
GLSS – 360 Sprints
Qualifying 1 | 00:01:08.368
66-Chase Dunham, 00:13.287[8]; 2. 18-Cole Macedo, 00:13.370[14]; 3. 16C-Tylar Rankin, 00:13.576[17]; 4. 24D-Danny Sams III, 00:13.681[5]; 5. 16B-Zane DeVault, 00:13.688[16]; 6. 7C-Phil Gressman, 00:13.782[12]; 7. 24-Kobe Allison, 00:13.785[15]; 8. 6-Hud Horton, 00:13.827[3]; 9. 01-Ryan Ruhl, 00:13.904[11]; 10. 5J-Jake Hesson, 00:14.039[10]; 11. 5M-Steve Irwin, 00:14.081[18]; 12. 85-Dustin Daggett, 00:14.154[6]; 13. 23-Devon Dobie, 00:14.159[1]; 14. X-Mike Keegan, 00:14.187[13]; 15. 1M-Brandon Moore, 00:14.444[2]; 16. 5NC-Jac Nickles, 00:14.477[7]; 17. 70-Eli Lakin, 00:14.545[9]; 18. 88N-Frank Neill, 00:14.604[4]
Qualifying 2 | 00:01:06.177
28-Shawn Valenti, 00:13.696[1]; 2. 27-Brad Lamberson, 00:13.733[6]; 3. 71H-Max Stambaugh, 00:13.917[4]; 4. 17-Jared Horstman, 00:13.951[14]; 5. 2-Kyle Sauder, 00:14.067[13]; 6. 22M-Dan McCarron, 00:14.089[5]; 7. 29-Bryan Sebetto, 00:14.126[12]; 8. 46-Ryan Coniam, 00:14.250[9]; 9. 86-Keith Sheffer Jr, 00:14.269[8]; 10. 26-Jamie Miller, 00:14.399[15]; 11. 11G-Luke Griffith, 00:14.402[3]; 12. 11N-Ed Neumeister, 00:14.404[7]; 13. 55-Matt Cogley, 00:14.486[10]; 14. 5E-Bobby Elliott, 00:14.530[11]; 15. 21M-Adam Cruea, 00:14.649[16]; 16. 11H-Caleb Harmon, 00:15.025[17]; 17. 51-Garrett Craine, 00:15.131[2]; 18. 98-Robert Robenalt, 00:15.270[18]
Heat 1 8 Laps | 00:05:08.141
16B-Zane DeVault[2]; 2. 16C-Tylar Rankin[3]; 3. 24-Kobe Allison[1]; 4. 66-Chase Dunham[4]; 5. 5M-Steve Irwin[6]; 6. 01-Ryan Ruhl[5]; 7. 23-Devon Dobie[7]; 8. 1M-Brandon Moore[8]; 9. 70-Eli Lakin[9]
Heat 2 8 Laps | 00:04:20.127
6-Hud Horton[1]; 2. 18-Cole Macedo[4]; 3. 7C-Phil Gressman[2]; 4. 85-Dustin Daggett[6]; 5. 5J-Jake Hesson[5]; 6. 24D-Danny Sams III[3]; 7. X-Mike Keegan[7]; 8. 88N-Frank Neill[9]; 9. 5NC-Jac Nickles[8]
Heat 3 8 Laps | 00:04:34.784
71H-Max Stambaugh[3]; 2. 29-Bryan Sebetto[1]; 3. 2-Kyle Sauder[2]; 4. 28-Shawn Valenti[4]; 5. 86-Keith Sheffer Jr[5]; 6. 11G-Luke Griffith[6]; 7. 21M-Adam Cruea[8]; 8. 55-Matt Cogley[7]; 9. 51-Garrett Craine[9]
Heat 4 8 Laps | 00:06:22.199
17-Jared Horstman[3]; 2. 22M-Dan McCarron[2]; 3. 46-Ryan Coniam[1]; 4. 27-Brad Lamberson[4]; 5. 5E-Bobby Elliott[7]; 6. 26-Jamie Miller[5]; 7. 11H-Caleb Harmon[8]; 8. 11N-Ed Neumeister[6]; 9. 98-Robert Robenalt[9]
B Feature 1 10 Laps | 00:05:13.876
5M-Steve Irwin[1]; 2. 11G-Luke Griffith[4]; 3. 01-Ryan Ruhl[3]; 4. 23-Devon Dobie[5]; 5. 86-Keith Sheffer Jr[2]; 6. 1M-Brandon Moore[7]; 7. 21M-Adam Cruea[6]; 8. 70-Eli Lakin[9]; 9. 55-Matt Cogley[8]; 10. 51-Garrett Craine[10]
B Feature 2 10 Laps | 00:11:54.543
5J-Jake Hesson[1]; 2. 24D-Danny Sams III[3]; 3. 26-Jamie Miller[4]; 4. 5E-Bobby Elliott[2]; 5. 11H-Caleb Harmon[6]; 6. 88N-Frank Neill[7]; 7. 5NC-Jac Nickles[9]; 8. 11N-Ed Neumeister[8]; 9. X-Mike Keegan[5]; 10. 98-Robert Robenalt[10]
A Feature 1 25 Laps | 00:28:52.053
17-Jared Horstman[4]; 2. 22M-Dan McCarron[2]; 3. 71H-Max Stambaugh[3]; 4. 7C-Phil Gressman[11]; 5. 16C-Tylar Rankin[1]; 6. 28-Shawn Valenti[15]; 7. 66-Chase Dunham[5]; 8. 16B-Zane DeVault[6]; 9. 27-Brad Lamberson[16]; 10. 6-Hud Horton[8]; 11. 26-Jamie Miller[22]; 12. 24D-Danny Sams III[20]; 13. 5M-Steve Irwin[17]; 14. 18-Cole Macedo[7]; 15. 11G-Luke Griffith[19]; 16. 5J-Jake Hesson[18]; 17. 46-Ryan Coniam[13]; 18. 24-Kobe Allison[10]; 19. 2-Kyle Sauder[12]; 20. 01-Ryan Ruhl[21]; 21. 29-Bryan Sebetto[9]; 22. 85-Dustin Daggett[14]