FOR IMMEDIATE RELEASE
Friday, Aug. 30, 2019
Contact: Brian Liskai – liskai2x@roadrunner.com
By Brian Liskai
ATTICA, Ohio – Aaron Reutzel used a restart with three laps to go to slide past race-long leader Buddy Kofoid and drove to the Ollie's Bargain Outlet All Star Circuit of Champions Presented by Mobile 1 victory at Attica Raceway Park to open the 31st Annual Ohio Logistics Brad Doty Classic Presented by Racing Optics weekend. Reutzel's victory on Baumann Auto Group Night is his 10th series win of 2019 and really tightens the point battle with Dale Blaney.
It was Reutzel's 19th career All Star win and his second career win at Attica Raceway Park for the Clute, Texas driver. It was the 124th visit to Ohio's Finest Racing speed plant by the All Stars.
"I was going to try to get a run on the top but he blocked the top and I thought he was going to take off earlier than that and not leave us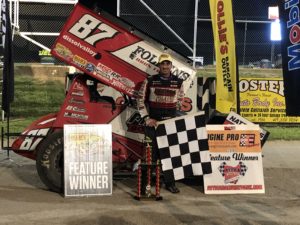 anything. But, he waited a long time to take off and I knew if we had any chance that's what it was going to be. He let me get to the moisture too and he kind of pushed out a little bit and I got a run. Then he knew he made a little bit of a mistake and he tried to block but left the door open just enough for me. We had a great race car. I was points racing a little bit racing with the 4 (Cap Henry) and it was getting a little hairy there. I had to think about points because Blaney (Dale) had to start in the back and I didn't know where he was. I got by the 4 and ran Buddy back down. He was setting a hellacous pace around the top…I tried to slide him a few times but I knew I wasn't going to clear him. On that restart I knew we had no momentum built up yet and that was my only shot. When I went with that slider I said screw points I want to win," said Reutzel of his Folkens Brothers Trucking/Fisher Body Shop/Precision Catalyst/Dissolvalloy/Hollywood Coating backed #87.
"I wanted to go through traffic but when we got there they had my lane blocked up and Buddy could set his own pace so traffic wasn't going to win it for us. That late caution was what won us the race. It's nice to get a win when we've been having either really good luck or really bad luck…we've had no in between. It's nice to get a win and close these points back up a little bit. It was a great night for all my guys, John, Steve Folkens, Curt, Devin Fisher, Mike, Josh, Tad Baughman, and everyone else and everyone on this car…can't thank them enough," added Reutzel.
Tim Shaffer, in his first time in the Ron Gorby G1 sprint car, also used the late restart to grab second and was right on Reutzel's rear bumper at the checkers.
"We're learning the car. Cody (Jacobs) is doing a great job. Earlier in the race I couldn't get the wing back far enough, it was so in the track and tight on the right rear. I was hoping the track would keep slicking off and it finally got slicked up where I could get the wing back and we could get leverage into the corner. I could get through the middle of three and four and it was really working. On that last restart I thought I had a shot at it but I missed the bottom in one and two…you really had to open it up to get there. I have to thank Ron…he's an awesome guy and makes it fun," said Shaffer beside the Howard Johnson of Lima/Fast Signs backed machine. "I have a lot of confidence with Cody having my back. We've worked together a long time and it makes it a lot of fun."
A dejected Kofoid said his engine stumbled a little on the restart and that cost him the victory. He earned an extra $500 from the Baumann Auto Group for being the highest finishing Attica Fremont Championship Series member.
"The motor didn't take off and I guess I need to do my job better on restarts. There were four or five before that and I was doing the same thing…trying to turn down and come across the moisture so I wouldn't wheelie up to the fence. I thought I was doing the same thing over and over and it seemed to be working. The motor wouldn't take off and I guess I need to do things a little different. The lappers were pretty good on the bottom and when you get to them they are throwing all the dirt to the top and it's crazy what lap does. You go from a clean top and then you get behind them and it's all dirty. It's kind of you stay with them and I never saw second so I got around a lapper and had him behind me and you hope he's blocking the guys behind me. The yellow just came at the wrong time. My plan was to just do what I had been and it just didn't work," said Kofoid beside his Gill Construction/CK Plumbing/Linders Speed Equipment/DMI backed #11N.
Wooster, Ohio's Doug Drown dominated the 25 lap feature for the Summit Racing Equipment UMP Late Models, winning his fourth feature of the season at Attica to wrap up his second track championship. It was his 28th career victory at the track to stay atop the all-time win list for the division.
"The car was talking to me…I was hearing all kinds of things. Devin (Shiels) had a bad race here last week and we gained some points but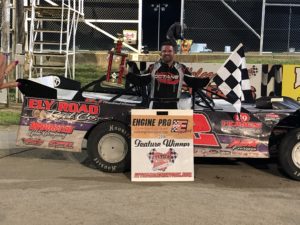 this is so nerve racking when you have double points…you can lose a lot. Hats off to my guys…Cody preparing the car and making sure everything was checked over and just perfect. Couldn't do this without Ely Road Reel, ABR Farms, 89 Homes, Wooster Glass, Black Diamond Chassis, Chubb Frank Racing, Keith Berner from AccuForce and all the knowledge he passes on and coaches me…I probably wouldn't be rolling through the middle if not for him. We were talking last night and he said he used to kick some butt doing that. I love this place. That's all you can ask is to have a race track you can race all over and we had that tonight. Hats off to the whole track group and everyone here. The staff is amazing and that's why we love racing here," said Drown in the Engine Pro Victory Lane.
In the 40-lap All Star A-main, Kofoid and Cap Henry brought the field to green with Kofoid bolting into the lead while Reutzel and Henry battled for second. Kofoid pulled away slightly with Henry, Reutzel, Skylar Gee, Shaffer, Brandon Spithaler and Chad Kemenah giving chase. With seven laps scored Danny Mumaw caught an infield tire and tumbled just as the leaders were prepared to get into heavy lapped traffic.
On the restart Kofoid jumped right back to the cushion while Reutzel slid in front of Henry for second but Henry returned the favor a lap later. Kofoid's lead was 2.5 seconds as he once again prepared to hit the back of the field with 12 laps scored but Greg Wilson coasted to a stop. Once again on the restart Kofoid was able to hit his marks and pull away as Henry and Reutzel stayed within striking distance. Shaffer and Gee were locked in a tight battle for fourth with 11th starter Brock Zearfoss and Kemenah battling for sixth.
Gary Taylor spun in turn four and Caleb Griffith drove off the high side of turn two on lap 16 to bring out the caution. Again on the restart Kofoid was able to fend off the challenges to lead over Henry, Reutzel, Shaffer, Zearfoss, Cory Eliason, Gee, Paul McMahan and Jac Haudenschild. Kofoid built up a nearly two second lead as the laps ticked away.
However, with 16 laps to go Kofoid was struggling with a lapped car and that allowed Henry and Reutzel to close. Kofoid moved to the bottom to try and get around the lapped car but could not get the pass and Reutzel used it to his advantage, driving around Henry and right to the rear bumper of the leader. With seven laps to go Kofoid was finally able to get around the lapped car. Meanwhile, Shaffer moved into third, bringing Zearfoss to fourth.
Kofoid seemed to have the race in control but DJ Foos stopped on the back stretch with three laps to go to set up the dramatic finish. On the ensuing restart Kofoid drove across the bottom, getting on the gas late and when he slid up ever so slightly into turn one, Reutzel turned under him and slid up in front as Shaffer drove under Kofoid as well. Coming to the white flag, Reutzel held a narrow advantage over Shaffer as Zearfoss got around Kofoid for third.
Reutzel blasted around the cushion to drive to the win over Shaffer as Kofoid rallied on the last lap to edge Zearfoss for third while Henry rounded out the top five. Eliason and McMahan each advanced seven position to finish sixth and seventh while Wilson rallied to eighth to earn the hard charger award with Gee and Justin Peck rounding out the top 10.
In the 25 lap late model feature, Chris Keller and Drown paced the field to green with Drown jumping into the lead. Only a caution on lap six stopped Drown's domination. And while he pulled away , Keller ran comfortably in second but the battle for third was a dandy involving Ken Hahn, Ryan Missler, Mike Bores, Ryan Markham and Matt Irey.
Drown built his lead to 4.5 seconds with five laps to go and drove to the win over Keller, Hahn, Missler and Bores.
Attica Raceway Park will wrap up the 2019 season with the 31st Annual Ohio Logistics Brad Doty Classic Presented by Racing Optics on All Pro Aluminum Cylinder Heads Night as the All Star sprints battle for $10,000 to win. The Fremont Fence 305 Sprints will also be in action racing for $1,000 to win.
For more information go to www.atticaracewaypark.com or follow the track on Twitter @atticaracewyprk or on Facebook at www.facebook.com/atticaracewaypark and Instagram at attica_raceway_park.

About the Baumann Auto Group – www.baumannautogroup.com
In an era of continuous change, the Baumann Auto Group is celebrating 62 years of successfully serving the community. Buck Baumann is proud to continue his father Al's vision with the same tradition of trust and family atmosphere in the seven dealerships that are in Fremont, Tiffin, Port Clinton and Genoa. Baumann Won't Be Beat is more than a slogan, we don't compromise honesty and ethics, we proudly employ high quality people and we care about our loyal customers.
The Baumann Auto Group has an exceptional sales and service team. So not only can you purchase your new vehicle from Baumann's, but they will keep it running smoothly with continued service maintenance. If you should have an unfortunate accident, Baumann's body shop is a well-known "direct repair" facility for numerous insurance companies, performing collision repairs on all makes and models.
Attica Raceway Park
Friday, Aug. 30, 2019
Baumann Auto Group Night
Ollie's Bargain Outlet All Star Circuit of Champions
Qualifying
Group (A)
1. 70-Brock Zearfoss, 12.752; 2. K4-Chad Kemenah, 12.766; 3. 5R-Byron Reed, 12.792; 4. 99-Skylar Gee, 12.841; 5. O7-Gerard McIntyre, 12.857; 6. 16-DJ Foos, 12.958; 7. 28-Danny Mumaw, 13.505; 8. 22B-Ryan Broughton, 13.586; 9. 46-Stuart Williams, NT
Group (B)
1. 71P-Parker Price-Miller, 12.597; 2. 13-Paul McMahan, 12.699; 3. G1-Tim Shaffer, 12.831; 4. 3-Jac Haudenschild, 12.884; 5. 1st-Gary Taylor, 12.909; 6. 35-Stuart Brubaker, 12.939; 7. W20-Greg Wilson, 13.008; 8. 20i-Kelsey Ivy, 13.719
Group (C)
1. 87-Aaron Reutzel, 12.609; 2. 25M-Chris Andrews, 12.812; 3. 33W-Caleb Griffith, 12.853; 4. 22-Brandon Spithaler, 13.106; 5. 18J-RJ Jacobs, 13.177; 6. 57X-Andrew Palker, 13.325; 7. 21N-Frankie Nervo, 13.679; 8. 40-George Hobaugh, 13.781
Group (D)
1. 4-Cap Henry, 12.633; 2. 26-Cory Eliason, 12.665; 3. 70X-Justin Peck, 12.775; 4. 11N-Buddy Kofoid, 12.802; 5. 5T-Travis Philo, 12.923; 6. 11-Dale Blaney, 12.947; 7. 91-Cale Thomas, 13.103; 8. 23-Carson Short, 13.383
Heat #1 – Group (A) (10 Laps) – Top 5 Transfer
1. 99-Skylar Gee [1]; 2. K4-Chad Kemenah [3]; 3. 70-Brock Zearfoss [4]; 4. O7-Gerard McIntyre [5]; 5. 5R-Byron Reed [2]; 6. 16-DJ Foos [6]; 7. 28-Danny Mumaw [7]; 8. 22B-Ryan Broughton [8]
Heat #2 – Group (B) (10 Laps) – Top 5 Transfer
1. 3-Jac Haudenschild [1]; 2. G1-Tim Shaffer [2]; 3. 71P-Parker Price-Miller [4]; 4. 13-Paul McMahan [3]; 5. 1ST-Gary Taylor [5]; 6. 35-Stuart Brubaker [6]; 7. W20-Greg Wilson [7]; 8. 20I-Kelsey Ivy [8]
Heat #3 – Group (C) (10 Laps) – Top 5 Transfer
1. 33W-Caleb Griffith [2]; 2. 22-Brandon Spithaler [1]; 3. 87-Aaron Reutzel [4]; 4. 25M-Chris Andrews [3]; 5. 57X-Andrew Palker [6]; 6. 21N-Frankie Nervo [7]; 7. 40-George Hobaugh [8]; 8. 18J-RJ Jacobs [5]
Heat #4 – Group (D) (10 Laps) – Top 5 Transfer
1. 11N-Buddy Kofoid [1]; 2. 4-Cap Henry [4]; 3. 70X-Justin Peck [2]; 4. 26-Cory Eliason [3]; 5. 11-Dale Blaney [6]; 6. 5T-Travis Philo [5]; 7. 91-Cale Thomas [7]; 8. 23-Carson Short [8]
Dash #1 (4 Laps)
1. 11N-Buddy Kofoid [2]; 2. 99-Skylar Gee [3]; 3. G1-Tim Shaffer [1]; 4. K4-Chad Kemenah [4]; 5. 3-Jac Haudenschild [5]
Dash #2 (4 Laps)
1. 4-Cap Henry [1]; 2. 87-Aaron Reutzel [2]; 3. 22-Brandon Spithaler [4]; 4. 71P-Parker Price-Miller [3]; 5. 33W-Caleb Griffith [5]
B-Main (10 Laps) – Top 4 Transfer
1. 5T-Travis Philo [1]; 2. 16-DJ Foos [2]; 3. W20-Greg Wilson [4]; 4. 28-Danny Mumaw [6]; 5. 91-Cale Thomas [5]; 6. 40-George Hobaugh [7]; 7. 21N-Frankie Nervo [3]; 8. 23-Carson Short [9]; 9. 22B-Ryan Broughton [10]; 10. 18J-RJ Jacobs [8]
A-Main (40 Laps)
1. 87-Aaron Reutzel [4]; 2. G1-Tim Shaffer [5]; 3. 11N-Buddy Kofoid [1]; 4. 70-Brock Zearfoss [11]; 5. 4-Cap Henry [2]; 6. 26-Cory Eliason [13]; 7. 13-Paul McMahan [14]; 8. W20-Greg Wilson [23]; 9. 99-Skylar Gee [3]; 10. 70X-Justin Peck [12]; 11. 11-Dale Blaney [19]; 12. 5R-Byron Reed [17]; 13. 3-Jac Haudenschild [9]; 14. 71P-Parker Price-Miller [8]; 15. O7-Gerard McIntyre [16]; 16. 22-Brandon Spithaler [6]; 17. 16-DJ Foos [22]; 18. 33W-Caleb Griffith [10]; 19. K4-Chad Kemenah [7]; 20. 25M-Chris Andrews [15]; 21. 1ST-Gary Taylor [18]; 22. 28-Danny Mumaw [24]; 23. 57X-Andrew Palker [20]; 24. 5T-Travis Philo [21]
Hard Charger: W20-Greg Wilson +15
Late Models – Summit Racing Equipment
Heat 1 – (8 Laps)
1. 31K-Kye Blight[5] ; 2. 69W-Jeff Warnick[1] ; 3. 94-Mike Bores[6] ; 4. 27-Ken Hahn[4] ; 5. 51-Devin Shiels[8] ; 6. RH21-Gregg Haskell[7] ; 7. 41-Randy Pollock[3] ; 8. 69R-Doug Baird[2] ; 9. 17X-Dustin Keegan[9]
Heat 2 – (8 Laps)
1. 50-Ryan Missler[6] ; 2. 28-Kent Brewer[4] ; 3. 42*-Bob Mayer[2] ; 4. 69M-John Mayes Jr.[9] ; 5. 02-Jeff McCoy[5] ; 6. 11H-Darrick Hubbard Jr[3] ; 7. 49-Noah Wagner[7] ; 8. 9.5-Brent Colby[8] ; 9. J28-Jason Henderson[1]
Heat 3 – (8 Laps)
1. 12-Doug Drown[5] ; 2. 5M-Ryan Markham[6] ; 3. 36-Matt Irey[1] ; 4. 67-Chris Keller[7] ; 5. 03-Jim Gingery[8] ; 6. 23H-Craig Hartong[2] ; 7. 20-Troy Hahn[3] ; 8. 30-Nate Potts[4]
B-Main 1 – (10 Laps)
1. RH21-Gregg Haskell[1] ; 2. 11H-Darrick Hubbard Jr[2] ; 3. 41-Randy Pollock[4] ; 4. 49-Noah Wagner[5] ; 5. 9.5-Brent Colby[8] ; 6. 69R-Doug Baird[7] ; 7. 20-Troy Hahn[6] ; 8. 23H-Craig Hartong[3] ; 9. 17X-Dustin Keegan[10] ; 10. 30-Nate Potts[9] ; 11. J28-Jason Henderson[11]
A-Main 1 – (25 Laps)
1. 12-Doug Drown[2] ; 2. 67-Chris Keller[1] ; 3. 27-Ken Hahn[3] ; 4. 50-Ryan Missler[9] ; 5. 94-Mike Bores[4] ; 6. 31K-Kye Blight[11] ; 7. 36-Matt Irey[7] ; 8. 51-Devin Shiels[13] ; 9. 03-Jim Gingery[15] ; 10. 5M-Ryan Markham[6] ; 11. 42*-Bob Mayer[8] ; 12. 69W-Jeff Warnick[10] ; 13. RH21-Gregg Haskell[16] ; 14. 02-Jeff McCoy[14] ; 15. 41-Randy Pollock[18] ; 16. 9.5-Brent Colby[20] ; 17. 49-Noah Wagner[19] ; 18. 28-Kent Brewer[5] ; 19. 11H-Darrick Hubbard Jr[17] ; 20. 69M-John Mayes Jr.[12]
Hard Charger: 03-Jim Gingery +6