FOR IMMEDIATE RELEASE
Friday, June 11, 2021
By Brian Liskai
ATTICA, Ohio – Coming into Friday night's 39th Annual Cometic Gasket Ohio Sprint Speedweek Presented by Hercules Tires event at Attica Raceway Park, Ian Madsen had finished second in FloRacing All Star Circuit of Champion Presented by Mobil 1 competition five times and just couldn't get into victory lane. No more as the St. Mary's New South Wales, Australia native took the lead on lap 14 and held off a charging Cory Eliason to score his first ever win at Attica on Ohio Laborers/Ohio CAT Night and it was worth $6,000.
"I'm kind of speechless right now. It's been so long since I've won a race. It's an incredible feeling. I cannot thank Sam McGhee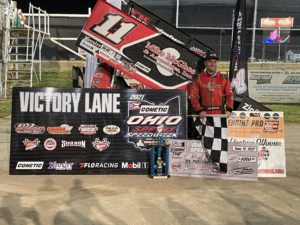 Motorsports enough for giving me the opportunity this year. It just such a relief. I was kind of ride less there at the end of last year and those guys put a lot of belief in me to come out and win races this year. It's been painfully close a couple of times. It's just awesome to get the first one. I can't thank my guys enough…Kevin, Payton and of course Sam McGhee, Kathy and Mike McGhee at home…I know they are watching and this one is for you guys," said Madsen beside his XYZ Machining/Winters Performance Products/Champion Racing Oil/FK Rod Ends/Finer Cuts Lawn Care backed #11.
Eliason, from Visalia, California, closed the final hand full of laps but just couldn't catch Madsen and settled for second.
"We battled a stumble on the starts. It took about to turn one to get going. Our car was bad ass fast tonight and the track was beautiful. No matter how hard we try here this place eludes me but we get better every time we come here so I think we definitely had a great race car. I feel bad for the guys because we've battled this stumble the past couple of weekends. We've changed everything but the driver I think. We keep fighting and this is a great start to Ohio Speedweek," said Eliason beside his Rudeen Racing/Rayce Rudeen Foundation/Hager Realty/Fatheadz Eyewear/Elliotts Custom Trailers and Carts backed #26.
From mid-race on Skylar Gee from Leduc, Alberta, Canada was a force in the 40-lap affair and came home in a solid third place in his initial outing with the Mark Coldren Motorsports 07.
"Hats off to Dalton and Jimmy…they worked their asses off. Hats off to Mark for putting us out here and taking a chance on me. I had a little bit of a slow start to the year but this is the best I've ever gone around here. I felt like we had a car to win but I just quite couldn't get close enough in traffic and yellow would come out. Wish we had another 10 laps," said Gee beside his Water Treatment by Design/Industrial Controls/Three B Services/Vector Industries/HP Engines backed machine.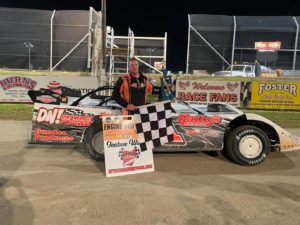 Defending and two-time Attica champion Devin Shiels has yet to finish out of the top six in 2021 though a win has eluded him. The Britton, Michigan driver drive around race-long leader Matt Irey on the last lap to score his first victory of the year in the Propane.com/Dirt Nerds Podcast UMP Lat Models. It was Shiels 10th career victory at Attica.
"We'd get a run off the cushion in three and four and I had to use that high line. We've been changing stuff. We kind of threw a curve ball tonight…threw a new right front shock on. We were worried it wouldn't work but it worked," said Shiels beside his Magic Fountain Auto Wash, Rally's Hamburgers, Dirt Nerds Podcast, Dundee Products, Banshee Graphics, Performance Machining #51.
Gee and Justin Peck brought the field to green for the 40-lap All Star A-main with Peck thundering into a big lead over Gee, Madsen, Lachlan McHugh, Cap Henry, Eliason, Cole Macedo and Chris Andrews. Andrews brought out the caution with three laps in wiping out a 2.2 second lead for Peck. On the restart while battling for fifth Henry spun.
When the green reappeared Peck once again pulled away while Gee had his hands full battling Madsen who took second on lap eight as the leaders entered very heavy lapped traffic. Peck struggled to get around the lappers and Madsen closed. Peck and Madsen battled hard for the lead and made contact on lap 14 with Madsen assuming the lead as Peck came to a halt.
Now with a clear track Madsen executed a flawless restart to lead Eliason as Gee, Macedo and McHugh battled hard for third. Macedo took third on lap 19 just prior to a caution on lap 21. Again Madsen had a great restart to lead Eliason, Macedo, Gee, TJ Michael and McHugh. Another caution on lap 23 kept the field close but as he had done several times prior Madsen got an excellent restart as Eliason took a little while to gain momentum while Gee and Macedo battled for third.
McHugh brought out the final caution with 10 laps to go and this time when the green flew Eliason hung with Madsen. Madsen maintained the lead as Eliason searched for a way around while Gee, Macedo, Danny Dietrich, Michael and Tyler Courtney gave chase.
Madsen hit his marks perfectly and drove to the win over Eliason, Gee, Macedo and Courtney.
Tyler Thompson and Matt Irey brought the field to green for the 25 lap late model A-main with Irey grabbing the lead as Thompson, Casey Noonan, Dave Hornikel, Matt Potts and Rusty Schlenk gave chase. A rash of cautions slowed the pace early. Hornikel finally took second on lap six as Schlenk battled Thompson for third.
On lap 11 Schlenk tried a big move and he sailed off turn three at full throttle in a scary looking incident that left him going to the pits. On the restart Irey led Hornikel, Thompson and Shiels. Following a lap 18 caution Shiels moved into third and took second a lap later. A final caution set up a five lap shoot-out and Irey and Shiels put on a show running side by side. Shiels, who normally likes the bottom groove, used the cushion in turns three and four and shot into the lead on the final lap to score the win over Irey, Hornikel, Thompson and Justin Chance.
Attica Raceway Park will be back in action Friday, 25 on Burns Electric/Baumann Auto Group/Advanced Drainage Systems Night. It will feature the All Pro Aluminum Cylinder Heads/Kistler Racing Products 410 Attica Fremont Championship Series Presented by the Baumann Auto Group, the NAPA of Bryan 305 AFCS Presented by Jason Dietsch Trailer Sales and the Oakshade Raceway/Attica Late Model Series Challenge.
For more information go to www.atticaracewaypark.com or follow the track on Twitter @atticaracewyprk or on Facebook at www.facebook.com/atticaracewaypark and Instagram at attica_raceway_park.
About Ohio Laborers
LIUNA – The Laborers' International Union of North America -in conjunction with the Ohio Laborers and Ohio LECET. Throughout Ohio, there 23 Local Union Halls representing 20,000 union laborers. LIUNA members – build roads, construct buildings, install gas and water lines, clean hazardous waste, and much more. When you see LIUNA members working on the road, please remember to keep them safe – slow down and move over!
About Ohio Cat – http://www.ohiocat.com
Ohio CAT is a top Caterpillar dealer, employing over 1,100 people in more than 20 locations. Ohio CAT has received numerous awards for customer service and business accomplishments, as well as being named 2015 leading skid steer loader dealer in the world as well as gaining top sales in excavators and repeated awards leading the Ohio market in skid steer loader sales. With staff nearly doubling since 2010, Ohio Cat completed construction of its renovated Broadview Heights corporate office in 2016 to accommodate recent years of rapid growth.
Attica Raceway Park
Friday, June 11, 2021
All Star Circuit of Champions
Qualifying
Group (A)
8M-TJ Michael, 13.054; 2. 11-Ian Madsen, 13.086; 3. 1-Nate Dussel, 13.173; 4. 48-Danny Dietrich, 13.198; 5. 16-DJ Foos, 13.207; 6. 24W-Garet Williamson, 13.511; 7. 9Z-Duane Zablocki, 13.528; 8. 27S-John Ivy, 13.642; 9. 12-Kyle Capodice, 13.774; 10. 14Z-Wyatt Zimmerman, 14.092
Group (B)
10-Zeb Wise, 12.944; 2. 101-Lachlan McHugh, 13.034; 3. 4-Cap Henry, 13.135; 4. 91-Kyle Reinhardt, 13.176; 5. 17B-Bill Balog, 13.259; 6. 35-Stuart Brubaker, 13.371; 7. 4S-Tyler Street, 13.374; 8. 3C-Cale Conley, 13.414; 9. 33W-Caleb Griffith, 13.436
Group (C)
23-Chris Andrews, 12.801; 2. 26-Cory Eliason, 12.918; 3. 55v-CJ Leary, 13.137; 4. W20-Greg Wilson, 13.382; 5. 1F-Dean Jacobs, 13.442; 6. 18T-Tanner Holmes, 13.482; 7. 22-Brandon Spithaler, 13.494; 8. 28-Tim Shaffer, 13.506; 9. 2L-Landon Lalonde, 14.006
Group (D)
13-Justin Peck, 13.037; 2. 5R-Byron Reed, 13.070; 3. 18-Cole Macedo, 13.130; 4. O7-Skylar Gee, 13.152; 5. 7BC-Tyler Courtney, 13.202; 6. 49X-Cale Thomas, 13.278; 7. 24-Rico Abreu, 13.554; 8. 57X-Andrew Palker, 13.581; 9. 21N-Frankie Nervo, 13.824
Group (E)
5-Paul McMahan, 13.155; 2. 19-Paige Polyak, 13.179; 3. 70M-Henry Malcuit, 13.309; 4. 70-Trey Jacobs, 13.396; 5. 25R-Jordan Ryan, 13.455; 6. 55-Hunter Schuerenberg, 13.484; 7. 14-Chad Kemenah, 13.742; 8. O9-Craig Mintz, —; 9. 5T-Travis Philo, NT
Heat #1 – Group (A) (8 Laps) – Top 4 Transfer
48-Danny Dietrich [1]; 2. 1-Nate Dussel [2]; 3. 11-Ian Madsen [3]; 4. 8M-TJ Michael [4]; 5. 27S-John Ivy [8]; 6. 24W-Garet Williamson [6]; 7. 12-Kyle Capodice [9]; 8. 9Z-Duane Zablocki [7]; 9. 14Z-Wyatt Zimmerman [10]; 10. 16-DJ Foos [5]
Heat #2 – Group (B) (8 Laps) – Top 4 Transfer
4-Cap Henry [2]; 2. 101-Lachlan McHugh [3]; 3. 17B-Bill Balog [5]; 4. 35-Stuart Brubaker [6]; 5. 91-Kyle Reinhardt [1]; 6. 33W-Caleb Griffith [9]; 7. 3C-Cale Conley [8]; 8. 4S-Tyler Street [7]; 9. 10-Zeb Wise [4]
Heat #3 – Group (C) (8 Laps) – Top 4 Transfer
23-Chris Andrews [4]; 2. 26-Cory Eliason [3]; 3. 22-Brandon Spithaler [7]; 4. W20-Greg Wilson [1]; 5. 55V-CJ Leary [2]; 6. 28-Tim Shaffer [8]; 7. 1F-Dean Jacobs [5]; 8. 18T-Tanner Holmes [6]; 9. 2L-Landon Lalonde [9]
Heat #4 – Group (D) (8 Laps) – Top 4 Transfer
18-Cole Macedo [2]; 2. O7-Skylar Gee [1]; 3. 7BC-Tyler Courtney [5]; 4. 13-Justin Peck [4]; 5. 49X-Cale Thomas [6]; 6. 5R-Byron Reed [3]; 7. 24-Rico Abreu [7]; 8. 57X-Andrew Palker [8]; 9. 21N-Frankie Nervo [9]
Heat #5 – Group (E) (8 Laps) – Top 4 Transfer
70-Trey Jacobs [1]; 2. 25R-Jordan Ryan [5]; 3. 55-Hunter Schuerenberg [6]; 4. 19-Paige Polyak [3]; 5. 14-Chad Kemenah [7]; 6. 70M-Henry Malcuit [2]; 7. 5-Paul McMahan [4]; 8. 5T-Travis Philo [9]
Dash #1 (4 Laps)
O7-Skylar Gee [2]; 2. 101-Lachlan McHugh [6]; 3. 26-Cory Eliason [1]; 4. 18-Cole Macedo [3]; 5. 19-Paige Polyak [5]; 6. 70-Trey Jacobs [4]
Dash #2 (4 Laps)
13-Justin Peck [2]; 2. 11-Ian Madsen [1]; 3. 4-Cap Henry [4]; 4. 23-Chris Andrews [5]; 5. 8M-TJ Michael [3]; 6. 48-Danny Dietrich [6]
C-Main (8 Laps) – Top 2 Transfer
18T-Tanner Holmes [2]; 2. 4S-Tyler Street [1]; 3. 9Z-Duane Zablocki [3]; 4. 57X-Andrew Palker [4]; 5. 2L-Landon Lalonde [7]; 6. 14Z-Wyatt Zimmerman [8]; 7. 21N-Frankie Nervo [6]
B-Main (12 Laps) – Top 4 Transfer
10-Zeb Wise [1]; 2. 5R-Byron Reed [2]; 3. 49X-Cale Thomas [5]; 4. 55V-CJ Leary [3]; 5. 27S-John Ivy [6]; 6. 14-Chad Kemenah [7]; 7. 28-Tim Shaffer [10]; 8. 24-Rico Abreu [15]; 9. 33W-Caleb Griffith [9]; 10. 5-Paul McMahan [12]; 11. 91-Kyle Reinhardt [4]; 12. 3C-Cale Conley [13]; 13. 1F-Dean Jacobs [14]; 14. 12-Kyle Capodice [16]; 15. 24W-Garet Williamson [11]; 16. 4S-Tyler Street [18]; 17. 18T-Tanner Holmes [17]; 18. 70M-Henry Malcuit [8]
A-Main (40 Laps)
11-Ian Madsen [4]; 2. 26-Cory Eliason [5]; 3. O7-Skylar Gee [1]; 4. 18-Cole Macedo [7]; 5. 7BC-Tyler Courtney [15]; 6. 48-Danny Dietrich [12]; 7. 55-Hunter Schuerenberg [17]; 8. 8M-TJ Michael [10]; 9. 4-Cap Henry [6]; 10. 5-Paul McMahan [25]; 11. 17B-Bill Balog [16]; 12. 13-Justin Peck [2]; 13. 35-Stuart Brubaker [19]; 14. 19-Paige Polyak [9]; 15. 10-Zeb Wise [21]; 16. 25R-Jordan Ryan [14]; 17. 49X-Cale Thomas [23]; 18. 22-Brandon Spithaler [18]; 19. 101-Lachlan McHugh [3]; 20. 55V-CJ Leary [24]; 21. W20-Greg Wilson [20]; 22. 23-Chris Andrews [8]; 23. 1-Nate Dussel [13]; 24. 5R-Byron Reed [22]; 25. 70-Trey Jacobs [11]
Hard Charger: 5-Paul McMahan +15
Late Models – Propane.com/Dirt Nerds Podcast
Qualifying
1.36-Matt Irey, 15.171; 2.71-Dave Hornikel, 15.309; 3.91-Rusty Schlenk, 15.324; 4.X3-Dan Wallace, 15.357; 5.92-Justin Chance, 15.406; 6.94-Mike Bores, 15.444; 7.1N-Casey Noonan, 15.500; 8.T2-Tyler Thompson, 15.554; 9.5M-Ryan Markham, 15.706; 10.59-Larry Bellman, 15.767; 11.51-Devin Shiels, 15.767; 12.44S-Colin Shipley, 15.924; 13.23H-Craig Hartong, 15.935; 14.29-Nate Potts, 16.317; 15.56-BJ Gregory, 16.444; 16.20-Troy Hahn, 16.466; 17.15G-Jamie Grochowski, 16.486; 18.101-Chester Fitch, 16.562; 19.10-Nathan Loney, 16.700; 20.69R-Doug Baird, 17.544;
Heat 1, Group A – (8 Laps)
T2-Tyler Thompson[2] ; 2. 1N-Casey Noonan[3] ; 3. 91-Rusty Schlenk[4] ; 4. 15G-Jamie Grochowski[6] ; 5. 5M-Ryan Markham[1] ; 6. 20-Troy Hahn[5] ; 7. 101-Chester Fitch[7]
Heat 2, Group B – (8 Laps)
36-Matt Irey[4] ; 2. 71-Dave Hornikel[3] ; 3. 94-Mike Bores[1] ; 4. 59-Larry Bellman[5] ; 5. 92-Justin Chance[2] ; 6. 44S-Colin Shipley[6] ; 7. 69R-Doug Baird[7]
Heat 3, Group C – (8 Laps)
51-Devin Shiels[3] ; 2. 29-Nate Potts[1] ; 3. X3-Dan Wallace[4] ; 4. 10-Nathan Loney[6] ; 5. 56-BJ Gregory[5] ; 6. 23H-Craig Hartong[2]
A-Main 1 – (25 Laps)
51-Devin Shiels[7] ; 2. 36-Matt Irey[2] ; 3. 71-Dave Hornikel[6] ; 4. T2-Tyler Thompson[1] ; 5. 92-Justin Chance[14] ; 6. 44S-Colin Shipley[17] ; 7. 10-Nathan Loney[12] ; 8. 5M-Ryan Markham[13] ; 9. 94-Mike Bores[9] ; 10. 59-Larry Bellman[11] ; 11. X3-Dan Wallace[5] ; 12. 15G-Jamie Grochowski[10] ; 13. 20-Troy Hahn[16] ; 14. 56-BJ Gregory[15] ; 15. 69R-Doug Baird[20] ; 16. 29-Nate Potts[4] ; 17. 101-Chester Fitch[19] ; 18. 91-Rusty Schlenk[8] ; 19. 23H-Craig Hartong[18] ; 20. 1N-Casey Noonan[3]
Hard Charger: 44s-Colin Shipley +11